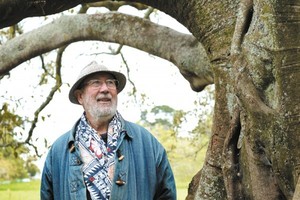 No matter where he lives, Michael Smither will always be Taranaki's champion due to his emotional depictions of its landscape.
Throughout a career as one of this country's most pivotal painters, Michael Smither has followed a personal vision and produced work that reflects his own particular way of looking at life. He is a sharp observer of people and places, the mucky bits and small details included.
His well-known early works from the late 1960s gave us super-realist and highly coloured kitchen sink confidentials of domestic life. Smither took family relationships, frugal living and the joys and trials of parenting small children and granted humble, everyday actions and objects centre stage. In some ways Michael Smither's work is an echo of New Zealand's growth as a nation - we see young families, regional exploration, instantly recognisable and often empty landscapes alongside abandoned goldfields, environmental scaring and burgeoning green issues.
Conservation and environmental concerns have always been close to the artist's heart.
Some of Smither's most well-known and significant images explore ecology and the natural world set against a backdrop of his beloved Taranaki or the wide open spaces of Otago.
An ongoing series some 40 years in the making featuring sharply outlined rocks and rock pools is an intricately observed meditation of Taranaki's Stony River and characteristically rocky coastline. Smither's interest in rocks and clear pools of water, he tells, comes from his passion for diving and seeing firsthand the impact of humans on the environment.
Despite, or perhaps because of, their message, the surface of these works is calm and luminous, the clarity of the water being a symbol of purity for the artist.
"Being bought up a Catholic, I grew up with the idea of cleanness and purity being an important thing. The whole idea of clarity became an essential part of these works, clarity meant you could see through something, see what was underneath it, know that there was integrity; so that's quite a spiritual, philosophical thing."
He's not just a philosopher though, strongly believing "an artist's place is to take part in society". Long before New Plymouth's award-winning Coastal Walkway reconnected the town to its previously inaccessible and starkly beautiful coastline, Michael Smither was championing its significance in the '60s.
In the '80s he was influential in getting local council to change its approach to sand erosion in the area, leading a team to use natural materials in a struggle to save beaches. Persuading New Plymouth City Council to forego the stark and ugly concrete groynes that attempted to control the ocean and redistribute sand, Smither constructed and fine-tuned a series of driftwood structures on the beach on which new sand dunes could build themselves.
Although there is no final victory in a battle against the mighty power of the ocean, Smither demonstrated that slabs of concrete poured into our seas do no better job. Smither saw the driftwood structures as an extension of his practice, as works of art.
He's working on a new project along similar lines of which a painting is the first step to try to convince local council to adopt the idea. This new work is a long, koru-shaped structure that will attempt to capture and bring back sand to beaches. One thing he discovered previously is that "replicating nature works best, echoing the shapes of nature works. And what could be more Kiwi than the koru?"

The hope is that the curved shape will swirl sand around the structure and back into the beaches. Unlike many artists of his generation, Michael Smither's art has always been firmly and identifiably set in the New Zealand landscape and specifically his local environment.
His work acts as a diary of where he has lived and a travelogue of journeys made. He has become one of a handful of New Zealand artists to lavish such emotion on a place as to become identified with that region.
So clearly set in our own landscape and heavy with the intimacy and evocative nature typical of his painting, Michael Smither's poetic regionalism makes us contemplate our own lives and surroundings, much in the same way the domestic scenes did, but this time with environmental concerns in mind.