Address:
133 Franklin Rd, Victoria Park, Freemans Bay
Phone:
(09) 280 1690
Cuisine:
Gastropub
Rating:
4/10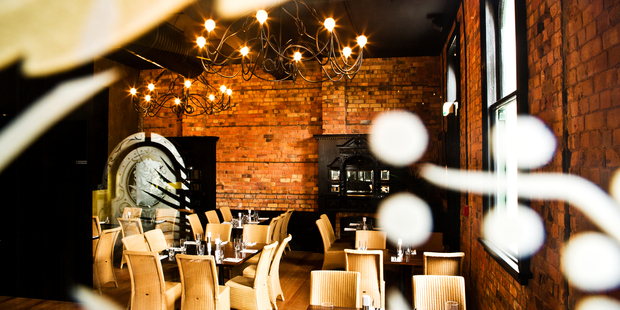 It's been quite a project. First they lifted it, then they shifted it, and it was slid back into place and lovingly restored to its former glory, and then some.
The Birdcage. I had yet to set foot in the place, either back in its 70s and 80s heyday (when, I hear, many a raucous party took place), or in its newest incarnation.
The website describes the north-facing courtyard, and I'd often driven by and marvelled at the crowds apparently happy to enjoy unwinding directly under a roaring motorway, but as we approached I was surprised to find that all that concrete overhead has a rather majestic quality to it and isn't as noisy as you'd imagine.
Indoors we admired the exposed brickwork, the old fireplaces and the new wrought iron chandeliers. We leaned for a while, enjoying the bar area before moving to our table in the main dining room.
That's when it all began to fall apart. Not the table, you understand, but the facade that this is a dining establishment of any note.
The first indication that food wasn't The Birdcage's strong suit appeared early on. The squid, though plentiful and creamily tender, was underdone - by a mere 15 seconds I'd say, which makes all the difference when uncooked flour is the result. But worse was the sauce, which was impractical - too thin to be used as a dipping sauce and pouring it over the top would have rendered the crispy squid soggy. Wasn't it someone's job to think this sort of thing through?
The mains are presented as "sharing boards" and they arrived on overly large wooden slabs that had the opposite effect to what, I assume, is intended, which is to justify the price tag of more than $50 a pop by making them seem like good value for money.
In reality the food looked lost and forlorn, especially the "butcher's board" with its slow-cooked lamb laid out in a line; duck fat potatoes that, lacking any crispiness, missed the point of roasting in duck fat; and alfalfa sprouts scattered over the meat imparting a strong flavour and looking scrappy. The "onion jus" sulked in a dish on the side, the thin dark reduction tasting unpleasantly of uncooked onion. Oh dear.
The Beijing platter was no better: a dish of dark, shredded duck meat that was satisfactory if a little bland (though that may have been only in comparison to the assault our taste buds had endured from the salty lamb); "tortillas" (as stated on the menu - they were not even masquerading as Chinese pancakes); a plum sauce that I swear was pureed plums and little else (for goodness sake, how hard is it to lob in some five spice in an attempt at Chinese plum sauce?) and a pickled vegetable salad that was soaked in DYC vinegar.
The sight of my dining companion's screwed-up face as she described the sharpness of the vinegar going up one nostril, spreading across her cheek then into her eye lightened the mood at least. It was impossible to resist repeatedly trying small forkfuls just to bring on the eye-watering sensation.
The first time we were asked if everything was okay with our meals we smiled sweetly, lied and said yes. The second time I couldn't do it and this is how it went:
"Well actually, it's not."
"Oh, could you elaborate?"
"Certainly. The sauces on these dishes, they're not great."
"Oh, could you be more specific?"
"Certainly. The onion jus tastes overpoweringly of uncooked onion and the plum sauce tastes sweet, like plums and nothing else. Does the chef make his or her own sauces?"
"I'm pretty sure he does."
"Perhaps you could taste them when you get back to the kitchen, and see what you think."
He slunk away and didn't approach us again all night. Nor did the chef, who could have chosen to come out and enlighten us on his recipes or offer an explanation.
I hold grave fears that those who perhaps don't get to eat out often will visit The Birdcage and surmise that, if this is what dining in our city is all about, perhaps they won't bother. I can imagine one of them muttering, "I don't know what all the fuss is about, love, we could have cooked better ourselves at home." And they'd be right.


From the menu: Lemon squid $14.50, salmon tartare $23, lamb platter $54, Beijing board $55, cos salad $9.50, chocolate sundae $14, brandy snap $14.
Drinks: Fully licensed
- VIVA