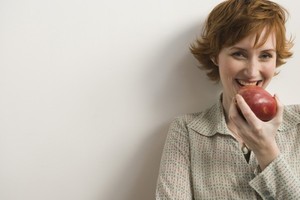 Lighten up
What a wonderful summer we've had, brilliant and bright months of wellness boosting warmth and sunshine. But summer can be a season of excess, leaving us carrying some excess. Here's the easy way to lighten up.
Weighty issues
Weight isn't the issue - wellbeing is, and weight-loss is just a tool to get there. Your healthy weight and shape is unique to you and may not be the lean, mean look we often fool ourselves that we need.
Set goals specific to your body and biology. The important measures are blood pressure, heart rate, healthy cholesterol. These vary with age, gender and ethnicity so you need your doctor or naturopath to measure and interpret yours. Then comes enjoyment of exercise and the ability to recover from physical exertion, these are key to maintaining healthy weight and active living. If these are all in good shape then you are too. If not, it's time to get to work.
Fat is not the only issue
Eating too much isn't the only cause of excess weight, it can be affected by factors like;?Genetic makeup - number and size of fat cells in the body that are programmed into your predestined genes.
Metabolism - the rate at which your body breaks down the nutrients in food to produce energy, and it varies for all of us.
BMR: basal metabolic rate is key, it's the amount of calories your body uses to run normal cellular processes.
If you're of a slim build your BMR will be lower than if plus size. Exercise increases your BMR.
Low serotonin - the 'happy' brain chemical - influences eating behavior. Diets low in protein (amino acids) increase the appetite and craving for carbs.
Nutrition deficiencies - lacking essential fatty acids, chromium, protein, fibre and iodine can increase body fat and cut muscle.
Hormonal imbalance - steroidal, thyroid or oestrogen, progesterone imbalance and insulin sensitivity may increase weight by increasing fat or water retention.
Understanding what controls your weight helps you choose effective strategies to your ideal weight.
Top tips
Exercise daily
Start walking 15 minutes a day, work up to 5 X 50-minute sessions per week at higher intensity; running, swimming, cycling, tennis, squash, gym, power-walking.
Eat fresh
Make fresh fruit and veges the foundation of your food. Nothing processed, and have protein (meat, eggs, fish, nuts) in every meal.
Avoid sugar, make honey your source of sweetness.
Snack healthy
Have healthy snacks on hand all the time, nuts, bean dips, carrots, celery, snacking regularly cuts food cravings.
Eat slow
Think about everything you eat and chew it, enjoy it, every mouthful. Stop before you are full and drink water with every meal.
Cook slow
Long cooking lowers GI of even starchy foods, reducing sugars increasing energy availability in healthy foods, Legumes are a potent immune food ideal for soup, stew, casserole or curry. Load your dishes up with helpful herbs like thyme, ginger, turmeric and garlic.
Writing is right
Set your goals, write them down. We underestimate our food intake so diary all you eat.
Find a friend
Enrolling a friend into exercising with you makes it easier. Talk every day about your goals and what you're doing, get those you live with to eat like you and your success rate soars. Facebook friends count, I will happily be your weight-loss partner.
I call these weight-loss winners because they never fail, put them into your daily life and you will achieve your optimal weight. Stick with them and you will maintain your healthy weight. Make this a summer to remember and lighten up before winter.
Body Mass Index (BMI)
The body mass index (BMI) is calculated by dividing your weight (in kg) by the square of a person's height (in metres) e.g 60kg divided by (1.7m x 1.7m) = 20.76. The target is 18.5 - 24.9. A BMI of over 25 is considered to be overweight. But beware: it has two major flaws.
It doesn't differentiate between muscle and fat, so athletic, muscular body types are defined as over-weight.
It underestimates how much natural bulk taller people have so they may be slimmer than they realise while shorter people can be more overweight than BMI shows.
Lani Lopez BHSc, Adv.Dip. Nat.?Lani Lopez is a naturopath, clinical nutritionist, and the founder of Lanilopez.com. Email her with health questions naturopath@lanilopez.com or make her your healthy friend at facebook.com/lanilopez.com