Grant Allen gets back to basics by buying from the makers at Amberley Farmers' Market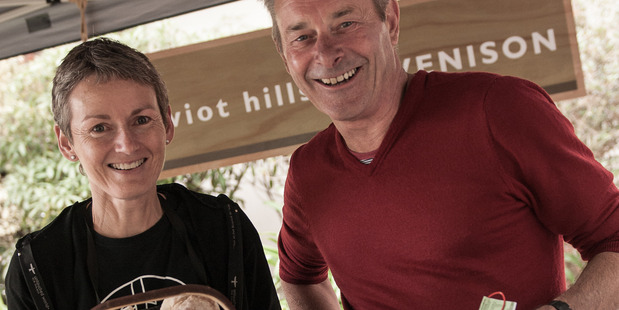 I love markets, whether they're selling food or other wares. The idea of buying direct from a product's maker is appealing. It's a direct relationship between a shopper and and the seller, no one is "clipping the ticket" between me buying and them selling. It's a basic economic relationship that connects the provider with the end user and enables us to talk.
However, the way I mostly shop is a run to the supermarket at the end of the day to pick up something to cook. When I can get to a market in Auckland, the veges I buy last all week, and I come away with a few special things beyond what I find in my local supermarket. I love the hub-bub of a market; I can get a coffee, a tasty snack while wandering around, and there is often some random entertainment as well.
In recent times we have seen an explosion of farmers' markets in city and rural settings.
Mostly they are situated in towns, enabling shoppers to buy in a fresher, more real way.
Recently I was in North Canterbury and went to the Waipara Valley Farmers' Market in Amberley. Commonly know as the Amberley Market, punters drive from Christchurch and surrounding areas to shop. In a way, it is a true farmers' market; most stall holders are either farmers or live on blocks of land in the area and bring their wares to the market to sell. The traders I met included a lifestyle block hazelnut-producer, a chutney-maker who worked as a plasterer by day, a couple who escaped the city to be organic in the country, a fish monger based in Rangiora who brings the freshest catch and always sells out.
It's a social experience, a community connection and, while not trying to be a show off, it's the way you shop in France and Italy. You go to the local market, very early if you want the best, and you buy for the day. You know the cheese maker, the baker, the butcher, the grower ...
Jane Montgomery of Cheviot Hills Venison is my connection with the Amberley market.
Her father bought a block of land from a subdivided historic Cheviot estate in 1960. He was an innovative farmer and started farming deer in the 80s. Jane's brother Monty and his wife Ange took over the farm and experimented with organic herbs and cropping seed, while still farming the deer, cows and sheep.
Jane moved back to Christchurch after a legal career in Auckland and got involved in the family business. They saw the potential of adding value and direct marketing the venison and associated products. They worked with local butchers and smallgoods makers and started making gourmet preserves to eat with the meat. Cheviot Hills Venison sells at the market as prime cuts, with accompaniments and Rachel Scott bread. What could be tastier than a Cheviot Hills sausage with Jane's mother's original recipe rhubarb and fig jam, in an artisan bread bap?
Now let's go check out the rest of the market.


Recipes
• Beetroot curd
• Venison and blueberries
• Using raw turmeric
• Hazelnut brittle