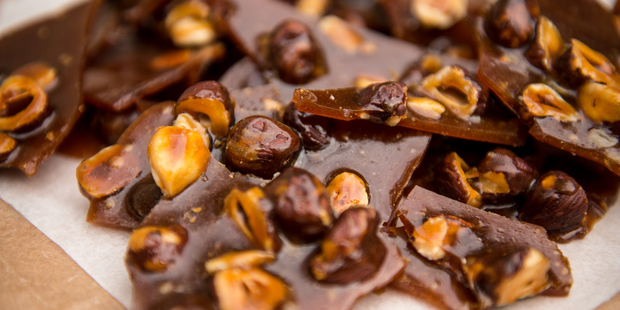 Paul and Lee escaped the city and bought into a hazelnut orchard. They are a great example of making a base product really work. Through their label, Harvest Glen Hazelnuts, they sell their nuts in all forms, including making hazelnut flour for those gluten-free types. Their packaging and product range builds on their story. Check them out on Facebook.
This is a recipe for a hazelnut briitle which had sold out by the time we arrived.
• 225g sugar
• 55g butter
• ½tsp white vinegar,
• 2dsp golden syrup


1. Put all into a pan, stir occasionally. Boil for 20 minutes. Take this step gently, you don't want the caramel to go too dark.
2. Add 1 cup chopped roasted hazelnuts.
3. Pour on to a greased tray. Break up when set.