Elevated blood levels of cobalt, chromium prompt surgery to remove recalled joint.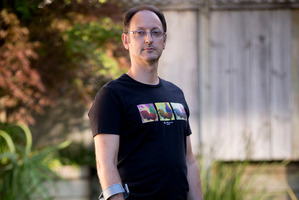 When Dean Donovan learned his hip implant had put elevated levels of trace metals into his blood, he wanted the joint gone - and fast. The 45-year-old Aucklander had the metal-on-metal ball and socket joint replaced 17 days ago, in surgery funded by the Accident Compensation Corporation.
He is now recuperating at his Glendowie home. The new joint is still mainly metal, but the socket has a polyethylene lining.
The original implant was installed in 2007 after seven years of worsening pain and disability in Mr Donovan's left hip.
It served him well. But he began hearing reports of problems with some metal-on-metal hips and in March last year received a letter from his orthopaedic surgeon asking him to come in for blood and urine tests.
Metal-on-metal hip joints were wearing out faster than expected. In some patients, this caused a build-up of microscopic metal debris that had led to a reaction in soft tissue near the joint. In some the artificial joint became loose.
Chromium and cobalt - used to make the hip joints - are expected to be at slightly higher levels in anyone with the implants but are being detected at elevated levels in some patients.
When Mr Donovan had the tests, the results alarmed him - he had comparatively high blood levels of the metal ions.
X-ray and MRI images did not indicate the Zimmer Durom joint was failing so the surgeon made no recommendation, saying it was up to him whether he had it replaced.
"I didn't like the idea of this toxicity in my system. I came to the conclusion I wanted it out," Mr Donovan said.
The Medicines and Medical Devices Safety Authority (Medsafe) issued a recall and hazard alert about the Durom artificial hip socket in October. It said the device was "discontinued by the manufacturer" in June 2011, having been used in 252 implants in New Zealand.
Its success rate, 10 years after implantation, was lower than for metal-on-metal hips as a whole - around 84 per cent of patients with the Durom had experienced no problems by that point, compared with an average of 90 per cent overall.
The Durom alert was the fifth recall or alert on metal-on-metal hip implants issued by Medsafe since 2010.
Mr Donovan, who's married with two children, is anxious about his blood metal levels because the long-term effects are unknown.
However, Orthopaedic Association chief executive Flora Gilkison said the levels should come down fairly quickly. She urged patients in his situation to get follow-up tests.
Ellie Wilson, of John Miller Law, said a damages claim for about 100 New Zealand patients over Johnson & Johnson/DePuy ASR metal hip implants made in Leeds was scheduled to go before the High Court in London next week.


Hip trouble
Since 2010, warnings and/or recalls have been issued in NZ for these metal hip implants:
• DePuy ASR and ASR-XL
• Stryker Mitch TRH
• Smith & Nephew R3 liner
• Smith & Nephew Birmingham hip modular head system
• Zimmer Durom cup