The benefit of an after-school job is far, far greater than the cash it gives teens, writes Donna McIntyre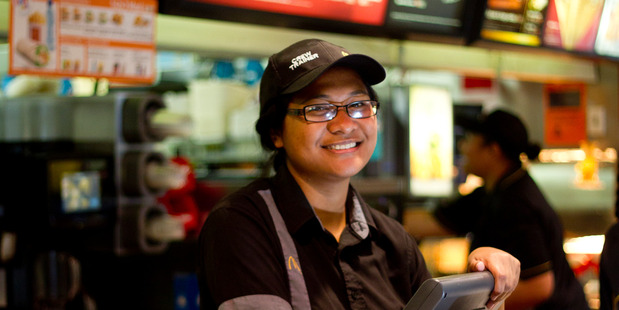 iPhones, iPods, branded clothing, yummy food - even teenagers have voracious appetites for consumables but often little appreciation for the work needed to provide the means to pay for them.
As well as funding spending habits, part-time teen jobs are important steps to adulthood. A taste of responsibility and independence and, the tangible reward, money to call your own without having to hit on Mum or Dad.
But how do you land that first job? Do you need a CV, references or can you just go door knocking?
A bit of preparation usually helps; but confidence, initiative and luck also play a big part in securing after-school or weekend work.
Although larger organisations require formal applications, just getting out there and asking is a good way to find work.
Career practitioner Angela McCarthy suggests asking family and friends if they know of any part-time work or have jobs around the house. "A little bit of work and that can snowball as they tell neighbours, friends and family."
Amy Cross is 17 and babysits as well as working at an after-school care centre three days a week.
"To get the after-school job I was interviewed by my principal, and I get other babysitting jobs through my Mum's friends. Mum asked around for me and once you get known, you get more jobs," says Amy.
She spends some of her earnings and saves the rest.
"I also get good references on my CV because I want to work with children when I'm older and doing this makes me feel more comfortable around kids. I plan to do paediatrics.
Doing the babysitting has reinforced that I definitely want to do that for a career."
Large organisations such as Countdown, McDonald's, BP and The Warehouse traditionally have hired teens wanting part-time work. Casual work options include babysitting, dog walking, mowing lawns, labouring for landscape gardeners, dishwashing, waiting in cafes, even delivering pizza, if they have a driver's licence.
Fruit picking, once popular, is harder to find as city-fringe orchardists sell off their land but other opportunities open up in their place. For example, computer savvy kids can find their technological know-how in demand with relatives and parents' friends.
Certainly, Countdown and retailing is the first job for a lot of people starting out, says Gillian Davie, general manager human resources at Progressive Enterprises. "Fourteen per cent of the 19,000 workforce employed across all age groups working for Progressive are 19 years or younger."
She says high-school students tend to start by doing one weekend and one evening shift a week.
"We are looking for people who like socialising, talking to people. And we do have expectations around basic numeracy and literacy; they need to be able to count the change back."
Bianca Barone, 19, started working at Countdown at age 15. "I love to do things on my own, to grow as a person and learn new things. I also did it to help my family out as my Mum was a solo mum. I saved a lot of my pay as I wanted to buy things. Mum didn't expect anything from me but when she was struggling to make ends meet, I would help to buy the groceries."
Bianca thinks the work experience helped her to mature. "I started so young I had to learn to be approachable and helpful to people I had never met before."
While students can work legally from 14, roles such as checkout operating require a certain maturity to handle difficult customer experiences, says Gillian.
Angela reckons maturity depends on each individual. "Some 14-year-olds are so mature, others are just babies."
Teens have to be at least 15 to work at McDonald's, which employs just under 10,000 people in NZ. Half of those are under 21.
"Anyone under 15 cannot legally work in a food preparation area. Under-16s also cannot work after 10pm or before 6am," says Simon Kenny of McDonald's. Students can apply online or at their local Maccas.
He lists the qualities his company looks for in an applicant: punctuality, being neat, clean and polite, and being friendly and respectful with customers and teammates.
Phyllein Pauli Taetafe, 17, head girl at Otahuhu College, started working at McDonald's two years ago. Part-time work has improved her time management skills. "I use this to my advantage as I am able to balance my studies, social and work life. The money helps pay for books, stationery and my needs for school."
Phyllein wants to be an oncologist. "This job has helped me gained an insight on the work force and has given me confidence to know that I can achieve anything I put my mind to."
However, students need to ensure they don't overcommit. "Ten hours a week seems to be a reasonably good balance," says Angela. "More than that and they start getting into trouble, particularly if you are doing sports or drama etc, on top of studies."
Often, first-timers will be asked to do a trial.
"A trial is absolutely fine and appropriate because many employers want to know if you can manage the work," Angela explains, "that you can wash dishes for five hours, talk to people, work a till or deliver a pizza on time - do it with good grace.
"All you have is your enthusiasm and if you can show in a four-hour shift that you are worth employing, then you're off and away. "
Pay rates tend to hover around the $15 an hour mark. However, some organisations start teens on minimum wages or youth rates, increasing their hourly rate after their first three months.
As well as being a source of income, after-school jobs also look good on CVs and promote good life skills.
Gillian says finding a job is all about good presentation and persistence "and I think also having the open mind. I know there is a bit of a connotation with retailing and fast foods, but our managing director, our GM of supermarkets, all started out on the shop floor. You just don't know where that first job could take you."
Although, on the rare occasion, a first job can end in tears.
"Some employers can be unrealistic," says Angela. "I always say any experience is a learning experience. If things don't work out, you know what not to do next time. But I haven't heard many stories of people being exploited.
"The usual thing you hear from kids is the job's really boring, not that it is too hard.
"The first job is a step forward. Once you have that, it is easier to get another job. Kids say they don't want to do any old job - but any old job will eventually get them into a good job."

Job-seeking tips
• Presentation is huge. First impressions count.
• Put together a brief CV of your qualities, strengths, interests.
• Give contacts of character referees outside the family (teachers, church leaders and sport coaches).
• If you have computing or graphics skills, put together an eye-catching flyer or poster