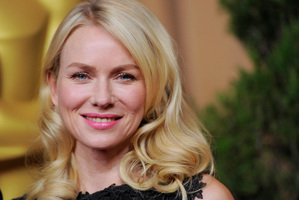 Naomi Watts thinks plastic surgery can look "freakish'', and says she would prefer to age naturally.
The 44-year-old Australian actress, who continues to look gorgeous on and off the red carpet, says going under the knife has turned other Hollywood stars into strange-looking creatures, which she is in no rush to resemble.
"All the women who haven't done anything to their faces are still able to play great roles. And some of the ones who have done something have messed it up - they look freakish,'' Watts told the US's Health magazine.
"Anyway, for me it's about playing women with rich lives and the longer the life, the deeper the wrinkles.''
Watts, whose partner is US actor Liev Schreiber, have two children together, Alexander and Samuel. She has previously spoken about her desire to have a third baby, but only if she could guarantee it would be a girl. For now, her her hands full juggling her family life with her job.
"There's so much going on and [I'm] trying to balance being a mom with a career. It's great that I've got both things but there are many times when I struggle,'' Watts said.
"Sleep is something I'm deprived of. But I feel so rich inside - I feel blessed to be a mother. For me, it's been a way of fulfilling a long-buried childhood dream. I had always wanted to be a mother, but when I was desperately searching for work in LA after I moved there from Australia, any thoughts of family were very distant indeed and it seemed that it might never happen for me.
"Both of us [Liev and I] love what we do, but we're also both very, very hands on parents and it's the most important thing for us to make sure the family stays together, so it will inevitably be a juggling act from now until they're grown up.''
The actress, who received an Oscar nomination for her tsunami film The Impossible and will star as the late Princess Diana in a new Diana biopic, may on the surface look cool and collected, but Watts says she has turbulent inner feelings that she controls through breathing exercises.
"Meditating and being with nature in the countryside [help me relax],'' she said.
"I love being outside with trees and water. I love the ocean air and sleeping. I do transcendental meditation, which keeps me calm and steady. I also drink lots of water and have a facial every six to eight weeks. I'm high-maintenance if I'm going to an event but in my own life I can't bear putting on make-up or blow-drying my hair. If you look in my handbag, there's not much in it apart from sunscreen. I do tint my eyelashes so I don't have to wear mascara every day.''
- COVER MEDIA