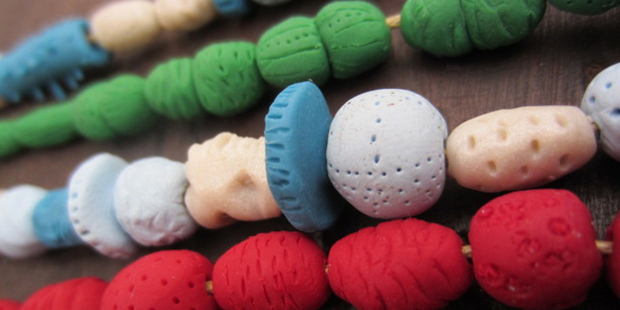 The possibilities are endless when it comes to fashioning your own beads from this hobby clay. Specialist tools are available but I managed with the contents of my kitchen drawer. Bearing in mind that I've merely scratched the surface, there are two basic ways to create interest on your beads. You can create an impression on the clay and then fashion your bead from there, or you can focus on the shape first and then inscribe a texture on to the surface.
Bead 1
To make the basic round or lozenge-shaped bead, simply roll desired quantity on a flat surface. Rolling and moving your hand in a circular direction will result in the lozenge shape. Round beads require shaping with the finger tips. Push a large needle or skewer through the centre and carefully push the bead all the way on. Using a knife, flatten and tidy up the edges around the hole and then ease it off. Check to see the hole is big enough for the string you will be threading it on to. Apply texture to these beads with your weapon of choice. Try different implements and experiment with a range of marks - large and small dots, horizontal lines, vertical lines, arcs in different configurations and applied with various edges will help to create interest.
The beauty is in the detail.
Bead 2
Alternatively, you can roll out a small portion of the clay and push things into it to leave an impression; I found a meat tenderiser and grater effective. When you're happy with the outcome, trim the edges of the clay and cut to desired lengths, fish-slice off the table and wrap around a skewer. Pinch off excess at back and tidy with the edge of a needle. Ease off skewer. Use this method to make long tube-like beads.
Bead 3
Discs or wheels are handy for adding variation. Make a ball and flatten with the tip of your finger. Flatten the edge with a knife, peel off table and push a hole through the middle. Add texture to the flattened edge with a skewer or needle.
The final consideration is colour. I decided to go monochromatic because it's easy to get carried away with a good thing and for me the mark-making was the exciting bit. But there's no escaping those trippy examples from the 70s, with lots of colours artfully amalgamated in a sushi-like roll to create an indulgent bloom or a smiley face. Colours can be mixed, or create a marbled effect by taking two separate coloured pieces and rolling them together. When you've had enough or your eyes can't stand it any longer, simply throw it all into the oven and cook for 15 minutes. The immediacy of this final stage is quite satisfying.

Materials/tools
• Sculpey hobby clay (a brand available from Spotlight)
• An oven
• Skewer or large needle
• Contents of your kitchen drawer
Fabric for sale
Fabric-A-Brac, a free-entry event, brings fabric from the people to the people. Pick up vintage, unusual and modern fabric at bargain prices, and find patterns, upholstery, buttons, sewing accessories, hot cuppas and sweet treats.
Proceeds from the Mercy Hospice stall and from refreshments will go towards the charity's work providing cost-free care to patients living with life-limiting illness.
Saturday March 9, 9am-12.30pm, Freemans Bay Community Hall, 52 Hepburn Rd, www.fabricabrac.co.nz