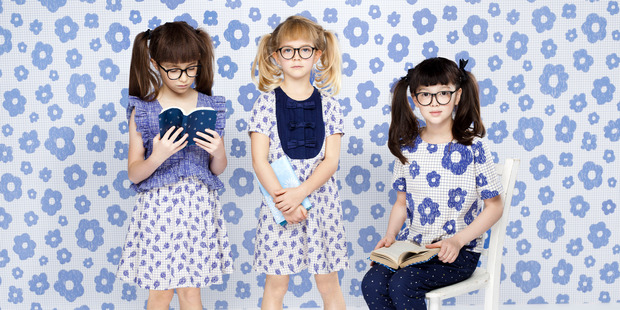 Kiwi fashion designer Karen Walker is venturing into children's wear for the first time through a partnership with a Japanese retail giant that will see the collection sold around the globe.
The range of 20 pieces including dresses, tops, pants and skirts will be available from April at Tokyo-based Uniqlo's 262 premier stores in countries such as the United States, China, Britain and Japan.
Auckland-based Walker wouldn't give any figures on what the partnership could be worth to her business but said it was "lucrative". She said the collaboration would increase awareness of the Karen Walker brand among consumers around the world.
Local consumers, however, won't be able to purchase the range as Uniqlo doesn't operate stores in this country and its online service doesn't deliver to New Zealand, Walker said.
She said the children's wear line - available for one season only - drew inspiration from her brand's other collections, while her 5-year-old daughter Valentina had also had some input into the designs. The concept behind the collection, which features alphabet and maths-themed prints, is "child geniuses".
Prices range from US$16 to US$22 ($19 to $26).
Children's wear is a notoriously challenging area of the fashion business - Trelise Cooper shelved her girls' clothing line in 2011 in response to declining sales - but Walker said Uniqlo offered the scale required to be successful in that segment of the trade.
The Japanese retailer, which reported annual sales of 928 billion ($12 billion) last year, has been expanding rapidly around the world with its affordable, basic fashion offering.
"One of the things I love about the collaboration with Uniqlo is that it fits with the strategy that we've got that you can buy Karen Walker at any price point - if you go into any of our stores right now you can get something for $15 or $50,000 [a diamond ring] and anything in between," said Walker.
In addition to the children's wear range, Karen Walker has also created a line of women's T-shirts for Uniqlo.
Despite the economic woes currently facing many developed economies, Walker said her business was on track to have its best financial year ever.