Each week intrepid reporter Rachel Grunwell will try out a new form of exercise to bring you the lowdown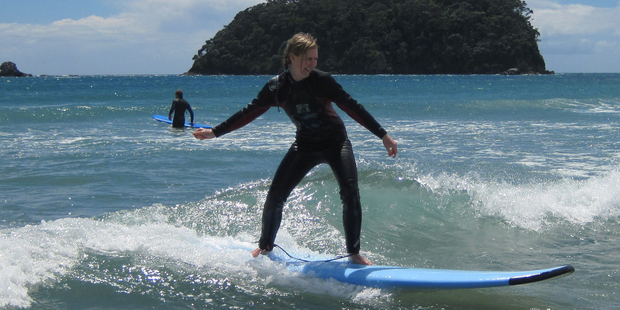 What is it? Riding waves while standing on a surf board (in the sea on this occasion). The waves carry the surfer into shore.
What's needed? Swimwear, non-greasy sunscreen (so you don't slip on the board), wetsuit and surfboard (or hire these).
The experience: I'm at gorgeous Mount Maunganui beach for a beginner's surf lesson with the Mount Maunganui Surf Academy. There's no oil about from the sunken Rena ship any longer. But I am a tad worried we're near a place dubbed "shark alley".
Instructor Andy Collins assures me the spot is not named after shark attacks, rather shark "sightings" - a long while back.
Good to know that, I tell him.
Along for the lesson also is two teenagers from Germany. Andy says the boys will easily hack the two-hour-long lesson, with all the physicalness that surfing demands; As for moi, "we'll see - given your age", he teases.
Not good to know that, I tell him!
But I cotton on quickly he likes to tease a bit, have a laugh and he's actually a great bloke. And he has 20-years of surfing how-how which he loves to share.
He talks about safety first, like how to put a hand in the air with a closed fist - the signal for "please rescue me NOW" (just in case). Then he writes the letters RIP in the sand and asks us if we know about this? Of course he jokes a bit about Rest in Peace (as in "death") but seriously he gives us a lecture about "rips", and how his boards, I mean we, can get out of them safely if we encounter one. However, I figure it's highly unlikely I have to worry about them much today as Andy will be in the water with us, therefore on the look out for rips (and sharks).
He gives us next the low-down on the parts of the board like the nose, tail, and the foot-strap to attach ourselves to our boards and then tells us about surf etiquette, like staying clear of others ie please don't mow down some poor swimmer with your board...

He then gets us to practice, bit by bit, how to surf, first practicing the moves out on the sand. Andy at one bit even pretends to be an on-coming wave, by running along the sand behind us and flapping his arms about, so we can practice the timing of catching a wave.
In-between laughing at the "wave", I practice getting up on the board. This entails first lying on the board with your palms flat on top of the board (don't grip the sides), and then paddling just before a wave reaches you (so you can catch it).
The movements to stand up is to go from this lying down, and chicken-winged position, to leaping up in one swift motion to having one foot forward and the other back, while bending your knees. All the while maintaining balance and trying to ride a wave without nose-diving or being bowled by a wall of water.
The first two attempts see me make mighty splashes, and the water feels freezing (even though I'm in a wetsuit). But I soon warm up and surf the third (little) wave into shore (woop!)
Of course, it's not done with any elegance and I look like I'm kind of imitating an aeroplane with my arms out the sides for balance. But I'm catching waves and so that counts!
At one stage I spy a rather large giant dark patch nearby in the water and Andy remarks "that's just a sting-ray". One whopping sting-ray! But it darks off in an instant, more afraid of me than I am of it.
By the end of the lesson, Andy tells me how to slow down on the board (lean back slightly) and speed up (lean forward) and I actually catch a "clean wave" - a wave that's further out, bigger and hasn't yet "broken" into white froth.
I end up chasing waves for two-and-a-half-hours, until my feet are numb and I'm tuckered out. I hobble out of the water with what Andy calls "the surfer's smile".
Andy says I did brill and he'll take the credit for my efforts in the water, he giggles. It's all about his "excellent teaching", he says. And I'd agree. Cheers Andy!
How much? A two-hour hour lesson (includes wetsuit and board hire) is $80.
Worth it? This is good fun. I could actually get addicted to this because after I rode a wave into shore, I just couldn't wait to get back out to catch another wave. Andy's lessons are easy to understand and it's a good spot to learn (ie the waves are not too big).
Try it: Check out surflessons.co.nz

Rating: 10/10