Rating:
3/5
Address:
Riverview Plaza, 4 Kapanui St, Warkworth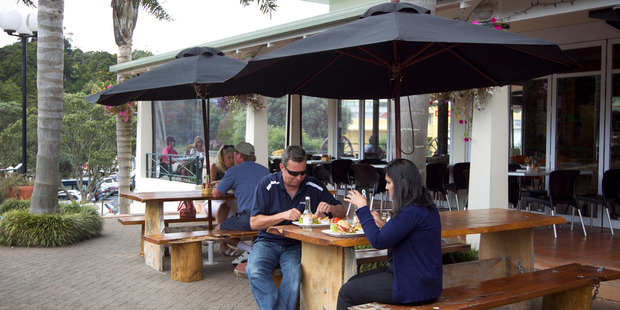 We came here because while on our camping holiday we needed to replenish provisions at the nearest civilised location - Warkworth - and took the opportunity for a cafe visit.
Parking was easy, plenty of street parking in the township.
We walked in and immediately thought it looked like a good place to relax, with kauri-topped tables and bench seats set on the terrace, alongside the river.
The most unusual thing on the menu was not an issue - it was standard fare on the all-day menu. The cabinet display looked appetising, with a range of homemade quiches, pies, sandwiches and cakes.
We ordered two B.L.A.Ts and two beef burgers (all $15.50 each) and hot chips (we were camping refugees, after all).
The service was friendly and efficient.
The coffee was hot and a fine brew.
We recommend if you come here don't expect gourmet food, Farmhouse deals in good, filling standard options - perfect for hungry teenage boys.
Overall we thought Farmhouse Cafe served its purpose as a place to refuel.
Sue Baxalle