We may struggle to describe the flavour of wine but some buffs' creative lingo is better left unspoken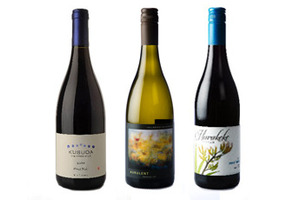 Pinot noir is a woman: a statement made by an international speaker at a recent high-profile wine conference in New Zealand, as he launched into a culturally inappropriate attempt to conjure up the character of the variety. Following a string of sexist analogies, the looks on the faces of the female members of the audience would suggest the charm and softness he perceived as inherent in both us gals and the grape was possibly not a given.
It's undeniable that the sexual stereotyping in the observations of this overseas guest was misjudged. However, his pinot faux pas highlights the difficulty in describing wines and finding a common language with which to converse about it.
Taste is already something of a subjective experience and communicating it is made even trickier by a lexicon for both taste and aromas that's distinctly lacking. In the English language, pure taste descriptors are limited to sweet, sour, bitter, salty and the more recently recognised, savoury "umami" character; smells are even less well covered by general terms such as perfumed and fragrant.
It's a situation that forces us to borrow expressions from areas outside taste. This can make talking about wines a wonderfully creative and sometimes poetic endeavour, but can equally lead to confusion, alienation or cringe-making cliches.
When scratching my head to find a fresh and accurate way to evoke 50 shades of gris, I've mused on the similarities between my task and that of a novelist attempting to convey a convincing sex scene with comparably limited language. Is phenomenal length and mouth-filling fruit the vinous equivalent of the throbbing member and erect nipples of bad erotica?
There are arguably just two narrow languages we can draw from. First, that used by winemakers, which is largely based on scientific terminology and quantification of wine's components, which requires some professional knowledge. If I start going on about brix, TA and RS, most wine drinkers will likely think I'm talking BS.
Then there's the more subjective lingo used by the likes of wine-trade professionals, buffs and critics, which is more concerned with communicating the nuances of flavour and texture. According to Dr Adrienne Lehrer, linguistics academic and author of Wine And Conversation, which explores the language people use to discuss wine, many terms are generated by wine writers "who want to both enrich their wine descriptions and entertain their readers", but as these are often inexact, they "may well lead to miscommunication".
There's also the evaluative domain, where metaphors such as "polished" and "harmonious" are drawn from areas such as the arts, or employ concepts such as poise and elegance.
It's when venturing into the realm of attributing human personality traits to wine that it's easy to stray into ridiculous or offensive territory.
"It's just a naive domestic burgundy without any breeding, but I think you'll be amused by its presumption," is the quote attached to a James Thurber cartoon of a host holding forth about a wine to his bemused dinner-party guests.
It humorously illustrates the hollowness of some winespeak, and the ridiculous analogies and jargon that can make wine seem like an elitist club.
We all have our own personal vocabulary, which can help us focus in on a wine and better remember it. But in discussing wine, as in all good conversation, it's about sharing, finding common ground and using words and ideas suited to those with whom we're speaking.

Recommended
Kusuda Martinborough Pinot Noir 2010 - $85-$90
One of my favourite wines shown at last month's Pinot Noir 2013 conference in Wellington. With its gossamer-like texture, bright red and dark fruits, perfumed incense-like spice and delicate florals, Kusuda's pinot noir encapsulates what's so enthralling about the variety. (From Fine Wine Delivery Company, Village Winery, Finer Wines.)
Collaboration Wines Aurulent Hawkes Bay Chardonnay 2011 - $30
This rich and complex chardonnay is one of the first releases from a new Hawkes Bay label, which counterpoises layers of nut, butterscotch, savoury and white peach nuances with crisp grapefruit acidity. (From www.collaboration wines.co.nz)
Harakeke Farm Nelson Pinot Noir 2010 - $22.50
Another new label, this time from the boutique organic estate of ex-Woollaston winemaker Andrew Sutherland. It's a well-structured wine with concentrated black cherry fruit and attractive spicy and savoury undertones. (From www.greatlittle vineyards.com, Accent on Wine, Wine Direct, Point Wines, The Wine Barrel.)
- VIVA