Viva goes behind the scenes to find out how beauty's backstage stars work their magic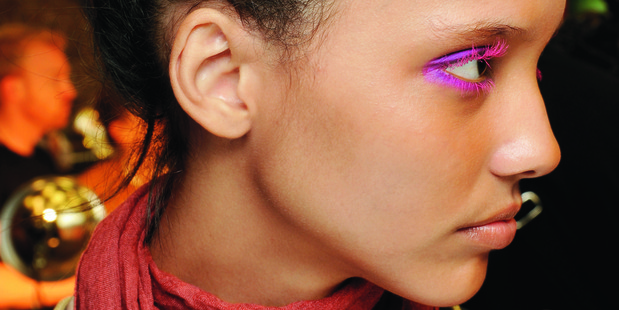 With international Fashion Week season in full swing, it's hard to keep up with the myriad looks coming down the runway. Some spark instant crazes via the internet, which in the beauty world most often shows up in the quick adoption of pop colours, new nail shades and hairstyles.
Fashion looks gain more media coverage and public momentum when they are modelled by celebrities on the red carpet, but the true distillation of runway trends can take a little longer to unfold. Buyers and manufacturers need to decide which looks will best sell and then see if consumers respond.
In the cosmetics industry, what is runway-ready is often still a while away from the shop counter. That is why the looks we show today come from New York - not last week but last season, when I watched their application by influential operators at key shows. These rock stars of the beauty world have a following that defies belief with some attracting as much attention backstage as the actual designers - testament to the fact that cosmetics rather than clothes are where many big brands make their real money.
Ten years ago, hair stylists and makeup artists largely got on with their creativity quietly; now they are encircled by bloggers, broadcasters and beauty writers all wanting a snap and a soundbite. I joined the fray.
CHARLOTTE TILBURY AT DONNA KARAN
With her posh drawl and plunging neckline, Charlotte Tilbury is a mix of dishevelled charm and extravagant gestures. She stomps about in high heels, clearly in her element, although with her flowing skirts and tangle of hair it's just as easy to imagine her in wellies at Glastonbury with mate Kate Moss, whose wedding makeup she did.
Each season Tilbury is responsible for some of the most arresting looks on the runway, and spring-summer 2013 was no exception. "It feels quite arty in a way," she sums up, after explaining how and why she created a curious pink eye at Donna Karan New York. "This season I sort of feel modernist colours are interesting."
The freelance favourite of many in the fashion world was a makeup "key" for teams of M.A.C artists, directing looks at a number of top shows including Prabal Gurung and Etro. Tilbury made an early pick of the graphic 60s-influenced direction that has flowed through to this winter. Defining tips for the season were a single "pop art" colour - most easily interpreted at home in a bold lipstick choice - and strong brows.
She can do beautiful, of course, but at shows she aims for a juxtaposition with the clothes, playing with opposites and aiming to marry the whole together. "There's always a beauty to it, but you've got to always bring something unexpected to the table."
Tilbury took her jumping-off point from Karan's "quite classic" designs which, she said, were "always with an element that is quite modern". She then set out to explore this in the character created through the model's look. "We wanted unexpected colour, it's not like a primary. It wasn't 80s - much more pared-down, done in a modern way but like the pink mascara from then - but with the matte face. It's a very graphic, very modern eye shape. It encapsulates the season."
Hero product: M.A.C Lip Pencil in Magenta
How to: M.A.C Chromaline in Process Magenta was applied as mascara, painting the individual lashes. Magenta lip pencil was used to give a pink-purple shade in a straight, thick line across the eye. "It's quite wide in the centre then it goes straight, square and underneath the eye and doesn't join up, there's a blank space in the corner."
The models' eyebrows were bleached and skin made pale using Face & Body foundation. The lipstick is M.A.C Politely Pink, a pinky-beige with high shine to contrast against a more matte face.
JENNA MENNARD AT KAREN WALKER
College chic is the description that comes to mind when meeting the neat-as-a-pin Jenna Mennard. Her aesthetic somehow works with both the white-coated Clinique team she represents as global colour artist and with the classic quirks of Karen Walker, for whom she has done show makeup for some time.
The women work well together, with Mennard saying she enjoys that Walker knows what she wants but has the confidence to let her team interpret it. She took her cue from the collection's fascination with early visions of the space age, and came up with a "plasticky perfect futuristic look".
With show-time fast approaching she isn't thrown when it's back to the drawing board - a final test shows the models' lip colour, a stand-out pink, isn't "reading" right under studio lights. Mennard calmly marshals the troops for a readjustment.
"The trends are being set this week, right now."
Later she says pinks and reds will feature strongly for spring, but she is equally excited about "a porcelain matte skin that has luminosity without shine". This depends on good preparation with moisturiser and degrees of concealer and foundation, then a touch of matte bronzer for facial definition, before powder is applied to give the whole a creamy, porcelain finish.
"It's a beautiful beautiful look, with the only pop of colour on the lip, with the matte skin and strong eye."
Liner and mascara are layered top and bottom, leaving eyes a little smudged to offset the overall delicacy, "but not in a way that looks slept in". Finally, a little bit of shine is added to the eyelid.
Hero product: Clinique Chubby Stick Intense. (These wind-up lip crayons are yet to land on New Zealand shores, but expect them in stores in late May.) The standard balm-like Chubby Stick is a big seller for Clinique, without the Intense version's depth of colour. Both have a natural sheen, but this can be mattified.
Try Clinique's Quick Liner Eye Intense in Ebony for an effortless but precise eye, in tune with the season and best worn with a strong matte lipstick.
How to: The show lip was layered with a Chubby Stick Intense shade and then eyeshadow used to build the lip colour, followed by a dusting of powder. Then it was another layer of lipstick and finally some more powder. "It's just tweaking to get the right shade," says Mennard. She advises using a hydrating moisturiser such as Clinique Moisture Surge followed by Even Better Foundation before powdering. At home, try a touch of translucent powder on both the T-zone and lips to bring a sophisticated matte finish to your look. If you don't want to powder your lips, then blot them with a tissue.
TOM PECHEUX AT DEREK LAM
In his Tom Ford scarf and jeans and sneakers, Tom Pecheux looks like he's just come in from a stroll among the autumn leaves of Central Park when I see him in action at Badgley Mischka.
Equally insouciant at Derek Lam, he is very much the global director of artistry as he starts extolling the virtues of various Estee Lauder products in his heavy French accent. Pecheux is on speed-dial for half of Milan and Paris, meaning he has a month twice a year of being one of the most in-demand show "keys" around. Working for the likes of Marni, Max Mara and Balmain he comes up with defining looks season after season. This year there was a strong, minimalist feel to many of his girls, some wearing earthy metallic tones he described as "techno ethnic" and others made futuristic with a swipe of thick eyeliner, which M.A.C honed in on to exemplify its "Sci-Chedlic" seasonal trend.
The unifying theme of Pecheux's varied work was upswept yet groomed brows and skin glowing with good health, an all-American prescription of beauty that explains how he can swing from being the hottest of hired guns to encapsulating the establishment brand that is Estee Lauder.
At Derek Lam the two came together to stunning effect with Pecheux taking the company's big-name models, including Joan Smalls and Liu Wen, for a turn in makeup that was "very HD, very 3D" but retained the requisite prettiness to contrast with Lam's bold checks and autumnal palette.
Standing backstage with his hand covered in makeup, Pecheux obligingly prattles: "The look is very feminine, very gentle, I call it aqua.
"When it comes to colour I put a little bit of colour in the eyebrows, just to fill in the eyebrow to make them present and not to disappear, and then for the eyeshadow I am using this new creamy eyeshadow from Estee Lauder. I'm using a green and a silver that I'm mixing together that really helps to apply the product and makes it very aqua, very neutral. Plus a little bit of pink.
"It's very romantic, it kind of reminds me of very early in the morning with the sunrise and the colours of the water."
A gaggle of young writers hang on every word. I glaze over, grateful my tape recorder works better than my shorthand. Pecheux goes through this spiel about half a dozen times in two hours, taking a short break from working through a cast of models to speak to groups of up to a dozen media at a time. We get 10-20 minutes to file through the crowded backstage area, shooting images and gathering the collective wisdom of makeup artists, hair stylists and manicurists.
Asians ask if the colours will suit their skins, broadcasters want the one-sentence summary, bloggers want a photograph with anyone remotely famous and a few writers actually ask how the makeup works.
Hero product: Estee Lauder Pure Color Stay On Shadow Paint. (The long-wearing pots of colour are due in New Zealand in April.)
How to: Start with skincare, says Pecheux, knowing busy models need it if makeup is going to look good. He uses Estee Lauder Idealist serum as a primer to smooth skin, before using a touch of concealer and light foundation with a satin finish, followed by a little powder. Then it's all about the eyeshadow. "The texture is creamy, so it's very easy to use and they dry very quickly, I'm telling you it's like wearing a waterproof." Provided there's no heavy eye cream underneath, Pecheux says you can put on Shadow Paint in the morning and it will remain at night. "It will not move." Powder shadow can be layered on top, but should not be put underneath the paint. "If you think powder products are more stable you are wrong ... it's a super long-wear."
Avoid the need to wear heavy eye creams by day by treating your skin at night, he advises.
JAMES KALIARDOS AT DIANE VON FURSTENBERG
With his floppy hair and boyish just-stepped-off-a-yacht looks, James Kaliardos is a convincing schmoozer. He gazes intently at questioners, answers at length, and, unlike many in the beauty game, isn't slow to express an opinion, rather than just rattle off a catalogue of cosmetics.
"Not many designers have an ethos," he declares to a random question about why he likes working with Diane von Furstenberg. She gets the nod for standing for something. This season it's something about India, with embellishment and colour in the collection. "Diane has a very multi-ethnic casting, which is unbelievably rare."
Beauty is different, says Kaliardos and, like good design, should have spirit. "I stand for individuality, women should be beautiful and feel beautiful and use makeup to empower themselves - not to feel like a slave to some sort of social identity. There's such a thing as female beauty, the psyche and how she feels about herself when she looks in the mirror, and makeup can help you with that.
"Someone from Norway is not going to take the same makeup as someone from Sudan, it's just not the same thing. You can't put it into a sort of prototype, fascist thing. You have to really look at the face and the feature and where the beauty is, the shape of the eyes. Not everyone looks good - some eyes droop down, some lift up - so you have to adapt each look. I'm not into girls looking all the same."
At DVF the individually tailored look was for fresh and beautiful skin, with the eyes strengthened in a soft smoky way "rather than a full-on diva". This was achieved by using a range of reddish brown tones and allowing shadow to play beneath the lashes, which were accentuated with coatings of mascara top and bottom. "Lashes, not liner - we didn't want anything hard."
Early 1970s Richard Avedon photographs were an influence. The models' lips were merely moistened with M.A.C Lip Conditioner and a delicate, natural-looking blush called Tea Petal was applied.
Kaliardos advised that the way to find your own best makeup look is to focus on what you love most about your face: "Just go for it. If you love your lips or the shape of your face or your eyebrows, just go with the strength, play that up." And don't be shy to ask for advice.
Hero product: M.A.C. Mineralize Moisture SPF15 Foundation. (This was trialled during the New York shows, applying just tiny drops. M.A.C Prep n Prime Concealer will be on counter mid-March in NZ in an array of shades.)
How to: Just 2-3 individual false lashes applied in the corners to elongate the eye add oomph without going all batty. Kaliardos says to mascara your lashes before applying false ones to provide a heavier base. Pick up each false lash with a tweezer and dip the point into a little glue.Lift your chin so your eyelid goes flat so you have more of a lash bed to work on. Drop the false lash right against the real lash, making it secure before releasing the tweezer. Start just past the middle of the eye, not the corner, for a more natural blend with your own lashes.
- VIVA