Fashion blogger Ari Seth Cohen speaks exclusively to Viva about his collaboration with Karen Walker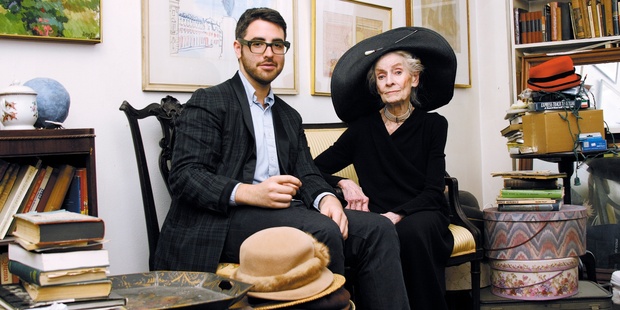 Ari Seth Cohen, self-described "old lady expert", started his blog in 2008, very quickly making a name for himself as a unique voice in the online street style genre. His subjects were of a certain age, outrageously stylish and exuding the passion and confidence that a fashion editor wearing borrowed samples just doesn't have.
His blog Advanced Style soon became a book, and a documentary is in the works, too - and now Cohen has turned his eye to Karen Walker, photographing four stylish women for the designer's new Karen Walker Forever campaign, described by Walker as "a celebration of eternal optimism".
Check out all the pictures here.
Ari worked with some of his favourite subjects and photographed them in their New York homes. His models range in age from 65 to 92: elegant opera singer Joyce Carpati, cooler-than-you fashion stylist Linda Rodin, boutique owner Lynn Dell and inimitable flame-haired artist Ilona Royce Smithkin, all photographed in the new-season sunglass shapes, alongside interviews about what they most look forward to. Some of the campaign faces were at Karen Walker's New York Fashion Week show yesterday, where the sunglasses - in stores now - were shown with the designer's latest collection, New Rose.
Viva talked exclusively to Cohen before the show about the new campaign, and the fashion world's relationship with age.
What is your favourite image from the series?
I had a lot of fun shooting 92-year-old Ilona Royce Smithkin. She is so full of life and I think her personality really comes out in the photos.
Tell us a little about each shoot with the women in their homes.
Each shoot was really fun. Joyce was a pro. She has great wallpaper all over her home and wonderful accessories that she has kept for over 50 years. She is a trained opera singer and during breaks between shoots, she would serenade the crew.
Linda Rodin has a wonderful silver poodle named Winky, who kept on trying to jump into the shots.
Lynn Dell made sure that we all had enough food to eat. She prepared a spread for the crew and was a wonderful hostess and model. Lynn has owned a boutique on the Upper West Side for more than 40 years, so she had an incredible wardrobe to choose from.
Sandy, her husband of 60 years, watched on on as we photographed his gorgeous wife.
Ilona had so much energy and would sing little songs and kick up her heels during the shoot. She has incredible long eyelashes, which she makes from her own hair. I loved seeing the eyelashes through the lenses of the glasses.
Do their homes reflect their amazing style? Would you ever consider broadening your scope with the blog to feature the homes of some of these women - as style is about so much more than the way you dress.
Yes, they all have incredible taste. It's so interesting to see how they bring elements of their personal style into their homes. Lately, I have been shooting more interiors and would love to continue to expand into more lifestyle-related content.
How do the older women you photograph for the blog inspire you, professionally, personally and sartorially?
I know that I look all right when they compliment me on what I am wearing. I am inspired by their style, their spirit and their creativity. I am incredibly lucky to be able to spend so much time with such inspiring men and women.
What is the most important lesson or interesting thing these women have taught you?
They have really taught me how to be more free and comfortable with myself. I see how precious every moment is, yet I know that there is much to look forward to. I am inspired to be as healthy, vibrant and vital as the women I photograph.
One of the intriguing things about your photos is the vitality and confidence that these women exude, but are women ever shy to be photographed? How do you encourage them and make them feel comfortable?
I encourage them to be themselves. Sometimes they ask for direction, but I like when they do what comes naturally. For many of them, it's their time to shine, so they really bring glamour, vitality, and spirit into the photos. Some of them are shy, but that can be inspiring as well.
Women of a certain age often talk about feeling invisible; to the media, to men, to fashion. How do you feel about this?
I hear this all the time and it's something that I constantly consider while working. The reason I started Advanced Style was to bring visibility to incredible older people and to show a positive image of aging.
Do you believe this attitude is changing, with the use of older models in fashion and the reaction to your blog?
It is, but there is a lot of room to grow.
You have helped bring Advanced Style into the limelight, with many young women finding it inspiring - but what has the reaction been from older women?
It's the same, but many of the older ladies are a lot more opinionated. It's fun to see their reaction to the book and what they find shocking or inspiring.
What do you love most about photographing stylish older women?
The stories. I love hearing their stories and sharing their wisdom with others.
When and why did you decide to focus on the style of older ladies?
I have always had an affinity for older people. My grandmother was my best friend and I would draw pictures of her and her friends at a very young age.
When I moved to New York in August 2008, I saw so many incredibly dressed, active and vital older ladies and wondered why they were not recognised by fashion and lifestyle media. Starting the blog was also a way for me to connect with older people after my grandmother passed away.
What is your relationship with some of the women you often photograph? Do you become friends?
There are about 50 ladies in Manhattan that I get together with on a regular basis. I have made incredible relationships with a lot of the women that I photograph. I feel like they are my extended family - the Advanced Style family.
What is your own relationship with ageing?
I have always had a positive idea of ageing because of my grandma, but spending so much time with such inspiring older people has made this even stronger. I do think about how my appearance will change, but as my 101-year-old friend Ruth says, "if you want to look good when you are 50, start when you are 20".
Who is the most stylish person you know?
Iris Apfel, Beatrix Ost, Linda Rodin ... there are too many. The first woman I ever photographed was a 94-year-old actress and model named Mimi Weddell. Besides my grandmother, she was really the inspiration behind Advanced Style. There is this great documentary about her called Hat's Off.
It shows how she started an acting and modelling career in her late 60s. She always wore wonderful old hats, gloves, Chanel dancing shoes and men's tuxedo shirts.
Who is the most interesting person you have met?
I have met so many incredible people. The other day I went over to writer Bel Kaufman's house to take some photographs. She is 102 years old and she recited all of The Love Song of J. Alfred Prufrock for me.
• Check out Ari Seth Cohen's blog at advancedstyle.blogspot.com.
- VIVA