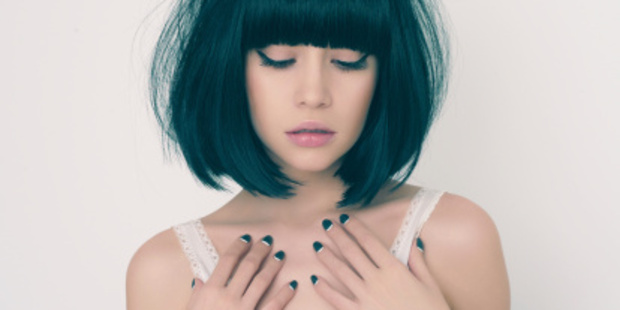 Bold bangs are a quick way to a fresh new winter look. The pixie crop adopted by a host of Hollywood starlets is also set to last, but make it modern with extra length on top so that you can vary the style by sweeping a low-slung fringe back into a quick quiff.
Pageboy styles are good on girls who enjoy mixing it up with boyish undercuts, but want to retain some feminine swing.
For those who prefer the more classically elegant styles, long waves remain a glamour look, but flapper styles are set to shimmy into view with Baz Luhrmann's The Great Gatsby coming to screens mid-year.
"You don't have to go for a full-on finger wave to wear to work every day. If you have a bob, get it cut a little more bluntly, with some slight length at the front.
"Or on longer hair, tuck the length up to create the illusion of a shorter style and wear it with some waves and body," says an Australasian spokesman for the Sebastian hair company, Ryan Mitchell of Renya Xydis.
His advice is to get expert help in matching products for your hair type so you can easily manage the look you are going for.
For women opting for the big boyish chop, this involves becoming more familiar with the sort of pliable products men use.
"These are great for allowing you to layer and shape hair with an elastic-type texture that allows for maximum flexibility." (He recommends the likes of Sebastian Professional Microweb Fiber and Matte Putty.)
For fringe control, Mitchell recommends blowdrying hair into obedience using a lightweight formula to add body while imparting soft shine (try Sebastian Trilliant).
Consider also investing in a mini-straightener for touch-ups.
Flapper looks need strong holdfrom stylers and spray.
Long hair first and foremost needs to be in healthy condition so use conditioning treatments regularly so it will flow and glow.

Fringe benefits
The trick to wearing a fringe well is getting the right one. Sarah Anwar from Serville's Academy offers this advice: "The type of fringe you should get totally depends on your hair and on your face shape. People with a deeper forehead really suit a heavy, full fringe; while if you have a narrower forehead you should wear a slightly lighter, wispier fringe. Fringes are always in fashion, it's just the styling that changes."
What type of hair and face is best suited to a fringe?
A fringe is best suited to someone who doesn't have too many strong growth patterns in their hair (cowlicks or really strong partings) and you need to be willing to style it daily no matter your hair type. People with a wider face should keep the fringe blended in with soft layers to frame the face. A wider fringe will open up a narrow face. The forehead always comes into it as well. Your stylist knows best, so listen to their advice.
If your hair is curly, can a fringe work?
If it's cut well and depending on how curly your hair is. Best to take advice from your stylist on this.
How do you avoid looking like a school girl?
It needs to be edgy. For example, a wide and blunt fringe, rather than narrow and really curved.
How do you look after your fringe?
A fringe really needs to be blow-waved and styled daily and will most likely need trimming every three weeks. Don't ever have a fringe cut shorter simply to make it last longer. It will just drive you crazy and it won't look great. (Servilles offer complimentary fringe trims to their clients between appointments.)
What product do you recommend is best to style your fringe?
A fringe can get greasy and weighed down easily by heavy styling, so in any hair type you really only want to use lightweight styling products and be light-handed with them. (Some great options would be Miracle Hair treatment by Eleven, or Kevin Murphy's thickening lotion). A good hairspray fights the humidity (try L'Oreal's Fix anti-frizz).
- VIVA