Scrumptiously pretty colours are opening eyes this season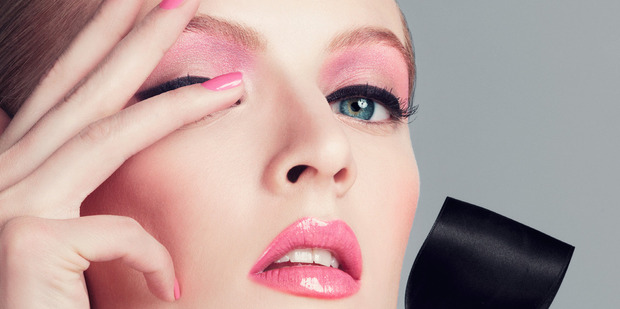 Beauty-wise, the loveliest and latest look is all about bringing a delicate flush to the face.
Fashion may have had its fling with pretty-pretty for now - moving boldly towards winter's sharper styles - but cosmetically speaking, sugar-spun confectionery colours are like candy to a baby.
Go all girlish with these more-ish pastel treats. Just don't be a glutton and avoid a sickly outcome by balancing your intake.
The way to wear pastels is with restraint. Choose one main shade, rather than mixing it up for a lolly scramble look. By all means introduce a little subtle contrast, in say a different pastel on the nails for fun, but on the face go for a nearly neutral canvas highlighted by a feature colour on the eyes.
This might be anything from lilac, through mint and lemon, to aqua and icy blue, or even into warmer gold-kissed sunset shades.
What saves pastels from looking startlingly old-fashioned is the injection of a little rosy warmth in the wearer's skin tone and avoiding overly strong lashes (so 60s).
What saves pastels from looking garish is a lighter touch than when they were paired with coloured mascara and contrasting lip colour (so 80s).
So now is perfected skin with a healthy glow emanating from barely visible foundation complemented by a soft sweep of shadow. This streamlined look brings fresh sophistication to pastels. It can be carried off by anyone, from brides to those clad in black.
If your first makeup instinct is normally for nudes and neutrals, or a strong pop of colour, why not explore the alluring pastel playground instead?

Softly does it
To apply a flattering pastel colour, choose a shade that complements your eye and skin tones and use a big, fluffy brush (either an eye sweep or a smallish blush brush) to build "blown-out" colour on the eyelid and above.
M.A.C's senior artist for Oceania, Amber D, says the shadow should be visible above the crease as you look straight ahead into the mirror, but avoid taking it all the way up beneath the brow. Instead, blend it out, winging it softly at the sides if you wish. Because eyelids are naturally greasy, your shadow will have more "grab" if you apply a lid primer first, or blend your chosen colour on to a neutral cream base for extra staying power.
Use a thin application of eyeliner and mascara with pastel colour to avoid eyes looking weirdly washed-out and ensure brows tidily define the whole.
Loose pigment powders offer the most intense colour, but are messier to use than solid powder and cream shadows. Try adding a light metallic touch to dress up a pastel shade, she says.
"Be open to trying things on."
Pinks and peaches are trickier than the blue, green and lilac tones, but the right shade can be flattering.
Amber D recommends twinning pastel eyes with a creamy soft lip shade, rather than anything too bright. (Look out for M.A.C's new Mineralize Rich Lipstick, due in store next month.)

Eye need
Single eyeshadows are a makeup kit essential, says Dior international makeup designer Yadim.
"I love monochromatic makeup. I think it's become a strong trend. It's a quick and easy way to wear makeup. It takes the guesswork out."
Buying a mono shadow, rather than an eye palette, is the best - and least expensive - way to experiment with the pastel trend. Luckily, Dior and a host of other beauty brands have put an emphasis on single shade sales, introducing new formulas and colours.
Yadim says a mono shade can be "as bold as you want it to be", or more subtle and neutral. "Follow a simple guideline, choosing one colour and using that colour by itself, or with other shades that match or complement it - for example, applying a rose shadow on the lid with a rosy or peach blush and a rose stain on the lips, or using a strong, statement smoky eye shade by itself, with nude lips and just a slight contour in the cheeks."
A third option is the classic Dior look, with a strongly coloured red lip. These days this is matched with a softer eye, using a nude tone in the crease, which Yadim says is "very chic and super simple to wear".
Add impact to all three approaches with a black, graphic liner and then load on the mascara. (Try Diorshow Art Pen, Lancome Artliner for a fine-tip that won't overwhelm pastel shadow.)

Recommended:
Bobbi Brown Sparkle Eyeshadow in Ballet Pink - $54.
Clarins Ombre Mineral Eye Colour in Lavender Tea (on counters from February 25) - $44.
Dior Twin Set eyeshadow pen in Ballerina Pink - $60.
Shiseido Camellia limited-edition blush/highlighter compact - $74.
Yves Saint Laurent Volupte Sheer Candy Glossy Balm in Frosted Mint - $65.
Kester Black Nail Polish in Bubblegum - $20.
Stockists: Brand counters in selected department stores and pharmacies. Kester Black from selected boutiques including Clash, 210 Broadway, Newmarket, and Two Daughters, 386 Point Chevalier Rd.
- VIVA