Blend some local ingredients with French flair for great results.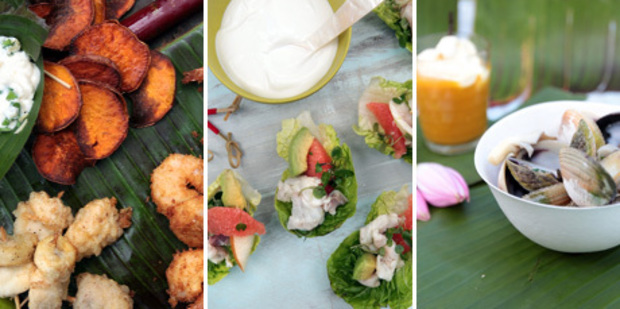 Life as an event caterer throws up some unusual challenges. I've been asked to create Caribbean Dockside parties in abandoned warehouses, colonial dinners in historic houses, Asian market dinners in driveways. Boat sheds, Christmas shops, photographer's studios and hairdresser's salons have all been used as venues. Creative thinking-plus is required to make these situations work and it also usually involves some specific food research.
A few weeks ago I was asked to cater for a delegation from New Caledonia in our warehouse kitchen. Mmmm, French Pacific ... I went to Noumea many years ago and was entranced by the mix of French food, Polynesian climate and abundance of style and seafood. But Googling "New Caledonian Food" brought few results for recipes.
Last year on, a re-visit, my perception of this place as being a bit special was reinforced. French food reigns supreme in some ways, despite the islands' Pacific location. Major French supermarkets have branches there. You can buy French goodies including wines, cheese and charcuterie, and even foie gras for way less than you pay here. Take them back to your hotel and have a feast.
It's all a bit expat and luxury yacht in vibe; a glamorous point in the Pacific pool.
Anyway, back to the brief. While there, I met Gabriel Levionnois. He's a bit of a food missionary. French New Caledonian born, he went to France, trained as a chef, then cooked on super yachts around world before returning to his birthplace. As patron of Restaurant Au p'tit Cafe he is telling a blended story, working to combine indigenous ingredients with classic French technique. I was inspired by his approach to food and took him as my mentor for this menu. Many of the Melanesian ingredients he uses are not available here so New Zealand equivalents have been used.
Use these recipes to host your own exotic cocktail party. Suggest a French Pacific dress code for extra fun. It's a winning combo - lava lava meets Lacroix.
Recipes:
• Coconut Prawns, Fish and Banana Kebabs and Sweet Potato Crisps
• Pork and Tamarind Kebabs
• Rice Paper Rolls
• Poisson Cru
• Oyster Clams and Mango Cappuccino