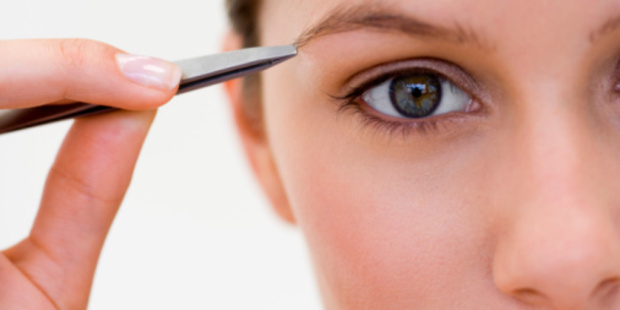 "How to do your brows is one of the most common questions we get asked at MAC," says the company's senior artist for Oceania, Amber D. "Women are recognising just how flattering a tidy brow can be." So it is no surprise the groomed brow is making a comeback.
At Auckland's Off Wax and Brow bars customers are keen to find exactly what suits them.
"People are moving away from wanting someone else's brow (like Kim Kardashian's) to finding their own best brow," says owner Nicky Shore.
The fastest growing service at Off is a combination of a brow shape and customised colour. People are also wanting quick fixes to help mask quirks like gaps, scars, thinness. That is why we have fallen in love with the brow pencil, but reinvented - no longer the harsh sharp lines that look obvious."
Full boy brows have dominated the runways for a fair few seasons and Amber D says this is still the trend."There is a real focus on a masculine-looking brow, only slightly arched and without looking tweezed - even if they are slightly.
"
If you don't have quite that much brow, or if yours are quite a bit lighter than your hair colour, then subtly defining and infilling what is there will help frame your face. Consult the experts for a good initial shaping or shape correction then see how you get on with upkeep at home.
Personal preference will come into whether you want to use pencils or powders on your brow. A soft pencil is quick and handy for everyday wear, but the effect of brushing on powder is subtler and, if you set the end result, it will last longer. Taupe-toned shadows and pencils are particularly versatile, with truly black brows usually looking overly harsh; people with darker hair should try muted chocolate or charcoal tones. Redheads should check out M.A.C's new collection of brow products which includes specific shades for them.
Another way of getting an ideal brow colour match is by checking out eyeshadow ranges, which offer more tonal variety.
SHAPE UP
• Use a mascara wand-type brush to comb the brows upward for an idea of what needs filling. Apply product starting slightly inward from the inner corner of your brows so that they don't look too sharp in the corners. Feather through the brow to almost create the appearance of extra hairs.
• Holding your makeup brush from the side of your nostril to the corner of your eye is the best way to see where the end of your brow should be. Where the brush points to is where you should pull the ends of your brows out to.
• If you need to tweeze try filling in the shape you like first on both brows then tweeze away the hairs that sit below that.
• If you have high, arched brows and want to soften the effect use a darker shade of product to fill under the highest point of the arch, straightening the brow out a little.
Amber D, who offered these tips, is a big fan of M.A.C's Clear Brow Gel to keep good grooming in place all day. M.A.C Brow Duo in Redhead $65
These complimentary colours, one matte, one satin, blend beautifully so you can vary the mix to suit the intensity you require.
Billion Dollar Brows Universal Brow Pencil $36
This colour suits most and comes from a blendable crayon-pencil with a grooming brush attached. (From Off Wax bars Britomart, Takapuna and Newmarket, see www.offwaxbar.co.nz.)
M.A.C Veluxe Brow Liner in Strawberry Blonde $40 and M.A.C Eye Brows in Lingering $38
Create a softly defined brow, with the double-ended brush which comes in five shades that tone to differing hair colours. The wand end allows hairs to be brushed into place before the slim-line pencil does its stuff.
Stila Stay All Day Waterproof Brow colour in Medium $45
Use the brush tip to easily paint on colour which is designed not to run or smudge so you can fearlessly go forth. Also available in light shade. (From Mecca.)
Browtician Slant Tip Tweezer $18.99
Slant-tipped tweezers are good at winkling out those pesky hairs. (Selected pharmacies, www.mybeautystore.co.nz.)