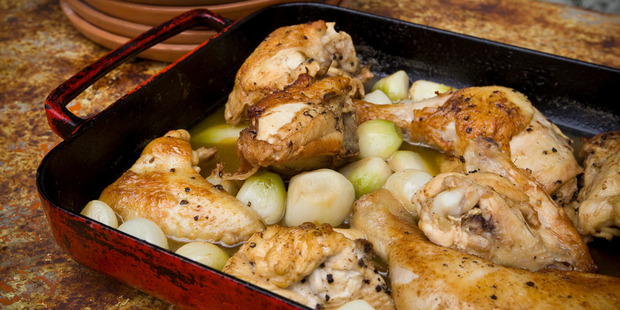 This may seem extreme but this classic French dish is a great way to celebrate fresh garlic at its best. All garlic softens in taste with long cooking and this is a favourite recipe of garlic aficionados.
Serves 4
1. Cut a medium-sized chicken into eight pieces and season these well with salt and pepper.
2. Melt 1 tablespoon of butter and 2 tablespoons of olive oil in a heavy based pan. Brown the chicken pieces, skin side down to start, turning them to get a even colour. Do this in batches to keep the heat up in the pan.
3. Reduce the heat and tuck 40 peeled garlic cloves under the chicken to make a layer on the base of the pan. Shake the pan so the garlic becomes lightly browned.
4. Pour in 1/2 cup of dry white wine and 1/2 cup of chicken stock. Scrape the bottom of the pan to incorporate all the browning residue. Cover and continue cooking until the chicken juices run clear.
Serve the chicken, garlic cloves and all the juices with rice or hand-cut fried potatoes.
Leftover chicken can be cut into smaller chunks and added to a risotto. Mash any leftover garlic bulbs and add these, too.