Danielle Wright learns the lingo at a teen beach volleyball practice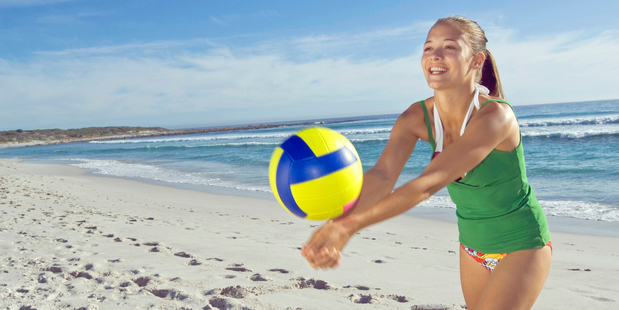 On a suburban street in Mairangi Bay, around 30 teenagers are passing, spiking and "chicken winging" their way around six beach volleyball courts set next to green fields and opposite residential homes.
Beach volleyball became a medal sport at the 1996 Atlanta Olympics and has always attracted attention, as much for the attire of the players as for the exciting on-court action.
The slang of the sport is almost as entertaining as the games: a "bambi", for instance, is someone who isn't playing aggressively, a "husband and wife" describes a serve dropping between two players because neither can decide who will pass it, and a "volley dolly" is a beach volleyball groupie.
On the day I visit the Mairangi Bay club, the teens are practising for an away-tournament at Mount Maunganui. Munroe Martin, 15, tells me she started playing indoor volleyball and then graduated to beach volleyball.
"Beach volleyball is harder because there are not as many people - from six to just two on each side of the net - and you have to contend with wind carrying your ball where you don't want it to go," she says, while hi-fiving a friend arriving to the courts.
Max Longdill, 18, who has played beach volleyball for three years, says: "I like that you get to play in the sun, with your friends."
He recommends playing as much indoor volleyball as possible and suggests drinking lots of water to prevent dehydration. I'm told that beach volleyball is usually played barefoot, unless the sand is very hot, and then socks are worn. There's no set uniform as long as partners wear the same colour on the bottom.
In the clubroom, players are being told about the upcoming tournament. They listen quietly to important logistical information. Then the topic of uniform is brought up.
"Can one partner be wearing bikini bottoms and another be wearing Spanx?" asks one girl, as other questions about what to wear are fired at head coach Richard Casutt.
"Beach volleyball is laid-back compared to other sports and you might play three games in the one day so if you want to change what you wear, that's fine, as long as the bottoms are the same colour," explains Casutt.
"It's okay to mix Spanx and bikini bottoms in a team, but just remember to get out of the sun when you're not playing."
Talk then turns to the logistics of food and it's revealed that a group of mums will be accompanying the team and making sure all the kids are well-fed and looked after.
Sherren Findley, regional development officer at North Harbour Volleyball Association, tells me the members of the club have swipe cards so they can come down anytime to practise.
"It's a fun place for them to hang out. They can put some music on and play all day in the sun with their friends," says Findley.
Above the clubroom is a sign "Beach Caf and Bar" and the six courts are spread out on the sand. It provides a beach atmosphere, with the added shade and facilities of the clubroom.
As I leave them "bringing the heat" and "sizzling the pits", it's obvious the club is not only a place to learn the sport of beach volleyball, and its lingo, but also the perfect spot for teens to make new friends.

Information
Watch this weekend
• North Harbour Open, Mairangi Bay Beach Centre, 65 Maxwelton Drive, Saturday and Sunday 8am to 8pm
• International teams from Germany and the US, plus Bay of Plenty and North Shore
Join the team
• Join the North Harbour Volleyball Club by emailing admin@harbourvolleyball.org.nz or through its Facebook page - search "North Harbour Volleyball". The summer series Sunday events are on in February and March.
• Also, a 10-week Twilight Social League starts on January 22. Membership is $85 a year, which provides full access to the beach-style courts, harbourvolleyball.org.nz. For clubs in other areas and a list of competitions to watch over summer, visit volleyballnz.org.nz.