Rotorua Holiday Special: Our summer fishing series today looks at a young gun.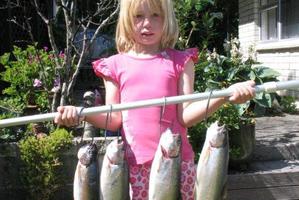 Long-time Rotorua trout fisher and professional guide Bryan Colman reckons his granddaughter has inherited the family fishing gene.
"My 7-year-old granddaughter is the number one fisherman," he says proudly.
"She always gets the first catch and the most. She's got the touch."
The veteran trout fisherman has spent a lifetime chasing trout in the district and says nothing quite matches the thrill of the catch.
"Screaming reels and fighting rainbows, that's the fun of it, getting that reel screaming."
After 66 years he still looks forward to going out fishing to net a big one, whether it is with his four Wellington-based grandchildren or with paying clients.
"I just love it. There are no two days the same in fishing."
He says his grandfather introduced him to the sport when he was a youngster and he went on to become a professional guide 40 years ago.
And, he says, the local fishery is in good heart.
Trout are in plentiful supply and growing larger every year through improved water quality.
"The browns used to average five pounds (2.2kg) and now they're averaging eight pounds (3.6kg)."
He says the small fish stock benefit from the purer water and, as a result, rainbow and brown trout are flourishing. And all streams feeding into the district's lakes are prime picking for amateur fishers, he says.
People can easily drive to a variety of spots, often signposted by Fish and Game, and cast a line into the water.
He earmarks Ngongotaha Stream on Valley Rd, off SH5, as a particularly good spot for trout fishing and his personal family favourite is Sulphur Pt on Lake Rotorua.
And the gear doesn't have to be fancy.
All you need to have is a single action fly reel and an artificial lure.
He says though fishing is better in wet weather, people will still catch fish if the sun is shining.
There are 11 fishable lakes in the Rotorua region.
Lake Rotorua is open for fishing all year while neighbouring lakes and rivers are closed for spawning from July for three months.
Streams feeding the lakes reopen in December.

Getting there
Head to Rotorua on SH5. Turn right into Paradise Valley Road at the foot of Mt Ngongotaha. Travel along the road until you spot Fish & Game fishing signposts.
Favourite Spots
• Ngongotaha Stream
• Sulphur Point
Fish
• Brown Trout, Rainbow Trout