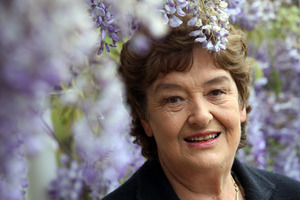 A simple and easy everyday kind of meal is just the ticket for New Year's Dinner, popular television cook Dame Alison says.
Known for her philosophy on everyday food and easy recipes for Kiwi families, Dame Alison has shared what she believes is the perfect meal to celebrate 2013 - and what she will be serving to her family today.
Crackers with salmon and cucumber make a perfect starter, followed by a shoulder of lamb cooked on the barbecue.
"It's such a lovely time of the year and so you don't want to be left in the kitchen cooking while everyone is enjoying themselves elsewhere.
"Having a barbecue means it's less formal. You can chat away with family and friends and cook the meal.''
Dessert is just as easy to prepare and almost "too lazy'', she says, but completely perfect for any Kiwi lunch or dinner.
"Strawberries with cream and icing sugar would be lovely too, but the normal sugar on top just brings out so much more juice in the berries.
"It's very easy, but just delicious.''
Dame Alison was the favourite to cook New Year's Dinner, according to a Herald DigiPoll which asked people which Kiwi chef they would most like to cook on the big day.
A total of 32.8 per cent of people voted for Dame Alison.
Other choices were celebrity chefs Al Brown, Simon Gault and Peter Gordon, who was rated second favourite to be in the kitchen with 22.5 per cent of votes.
New Year's Dinner
- Starter: Crunchy crackers with slivers of smoked salmon and cucumber.
Squeeze some lemon juice and add horse radish.
- Main: Boned rolled shoulder of lamb.
Cook on the barbecue with indirect heat. Cook it for a quarter of an hour on each side, cooking it for about an hour. Also add on the barbecue some medium-sized desiree potatoes.
Boil up some frozen green plain peas and add a few sprigs of mint for flavour.
- Dessert: Mix strawberries and raspberries and add sugar, before serving with sour cream.
- Wine: New Zealand Sauvignon Blanc.