More people are wising up to the value of bees.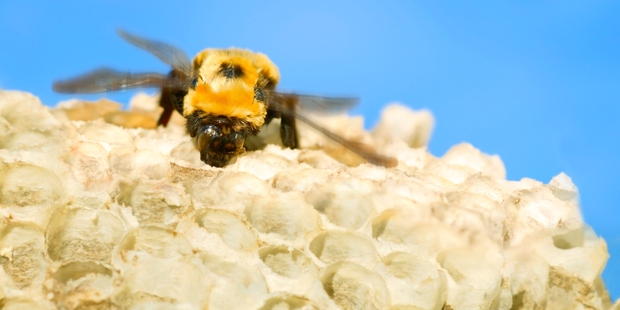 It takes 12 bees their entire bee lifetime to gather enough nectar to make one teaspoon of honey. They will visit thousands of flowers a day and fly great distances before returning home to deposit the nectar into the hive's cells.
During their travels, bees play a vital role in the life of plants, dusting pollen from one plant to another and so ensuring fertilisation, and the survival and diversity of hundreds of species, including humans! We need bees, and lots of them.
Fortunately many city-dwellers have cottoned on to this, and the number of beehives in suburban gardens is growing. This is a worldwide trend - you can even spot bees flying to and from their hives on the rooftops of apartment buildings in Paris and New York. These industrious creatures will find a way to hunt and gather in the most urban of situations, and give their city keepers a sweet reward in the form of honey.
Aucklander Greig Buckley became inspired during a visit to his local market. He got talking to a beekeeper and found out there were several backyard hives in his neighbourhood, and that the beekeeper would basically do all the work. The bees fed themselves and the keeper regularly checks the hive.
As the owner of Kai, a business that promotes and sells artisan food, Greig believes that we should all get closer to the source of what we eat. You couldn't get much closer than the huge pohutukawa tree that grows in his woody garden, a perfect "honey trap" for his hive of bees. The hive produces about 50kg of honey a year in three or four batches. Greig helps with the harvest but apart from that, the hive is very low maintenance. The bees are well behaved and it's fascinating watching their endless coming and goings.
I've been using honey a lot more in my cooking lately. I use it when making syrups in which to poach fruit, to sweeten cream and yoghurt, to enhance roast vegetables and in various marinades and glazes. As well as being a natural sweetener, honey has many health benefits. Here are a few ideas to help you make more of it.
Enhanced roast veges
The sweeter the vegetable the more it takes to a bit of honey. Kumara, pumpkin, carrot, yams and parsnips can be dressed with a little oil, a judicious amount of honey and seasoned well with salt and pepper.
A squeeze of orange or lemon juice also works well and you could add some grated fresh ginger or finely chopped garlic if that is to your taste.
Add a small amount of water to your roasting pan and cook in a medium oven until tender.
To serve, zest up with some fresh herbs. Try mint with carrots, maybe sage on the pumpkin and lemon thyme with the parsnip.
Try these recipes:
* Smokey sweet chicken drumsticks
* Gordon Ramsay's mint chocolate truffles
Contacts
Greig Buckley: kai.co.nz, Greig's beekeeper, Kim Kneijber: kimk_bees@hotmail.com