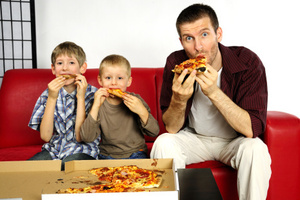 You had to feel for John Key's kids this week. Their dad blamed them for his use of the word "gay". Nice one John.
He reckoned it meant "weird", but what that saying really means, as his kids would have told him I'm sure, is, well, just that, "gay". As in, "man, that shirt's so gay". Of course, he couldn't use that as his explanation to the media so he decided to dob his kids in instead to get himself off the hook.
The thing is, Mr Key is not the only parent to trot their children out as the perfect excuse. I, like most mums and dads, do it too, though in a far less public arena. So here are my top five reasons to blame it on the kids...
* They are the perfect excuse for not going to that party you are meant to go because you're tired from running the kids around all day, and the littlest one was up all last night, and you just want to stay home and watch a movie.
But be warned, because while you will wake up as fresh as a daisy the next morning, there will also be pangs of regret about not taking the chance to hit the dance floor and have a few drinks. Well, that's what happens to me anyway.
* Kids are the perfect excuse to eat junk food. If the kids are going to get a treat of a happy meal at McDonalds for dinner then I'm going to get my six monthly Big Mac, Filet and fries fix too thank you very much.
* They are also the perfect excuse for taking a sick day when you're not sick. Because you can't send them off to school, creche or kindy can you?
* And when you're coughing and spluttering at work, getting glares from your fellow workers, and you can't take a sick day because you've used them all up on the children, well, you can always blame the nippers for giving you the sickness. Though don't expect that excuse to appease your co-workers much.
* And finally, kids are the perfect excuse to jump queues at the airport, or any other place where you have to line up. "Do you mind?" is all you need to say, and people are - usually - obliging enough to let you go ahead.
The prime minister's predicament also got me thinking that just because kids do something or say something, doesn't make it ok for a grown up. I guess that's why there is that famous saying, "Kids say - and do - the strangest things". Adults should know better. But I admit it - just like our great foot in mouth disease leader - sometimes I can't help but be a big silly kid too.
For example, even though I tell my little girl Mia not to lick her knife or pudding bowl, I'm still prone to the odd knife lick every now and then. But I wouldn't do it out in public, or, in the prime minister's case, at a state dinner or something.
And I tell ya, when I don't get my way I'd love to roll around on the floor, kicking and screaming. But I don't. Although Mr Key should try it in a press conference next time he gets asked a curly question. The nation will think he's lost the plot, but it might get him off the hook. Because after all, he likes to think he's down with the kids.