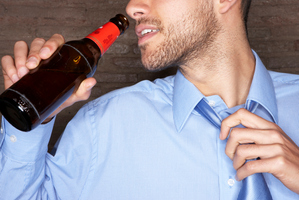 Despite what they say, most New Zealand men regard family and love as more important than beer and work.
Over 500 Kiwi gents around the country were asked what mattered most to them. Over 65 per cent rated family as the most important thing.
The survey found 14 per cent of men rated love at the top of their priorities, followed by children (10.6 per cent) and friends (3.9 per cent).
Below that came work (3.3 per cent) while only 1 per cent of respondents said beer was the most important part of their lives.
Of the 504 participants, 97 per cent said they would pay the correct amount when buying from an honesty box.
Just over 80 per cent said they would help a stranded motorist on the road, but in Otago only 76 per cent said they would stop to lend a hand.
The best regions to be stranded in a car were Waikato, Nelson and the West Coast - all respondents in these regions said they'd stop to assist. However, only half of the men would offer to help their neighbour build a deck.
The poll, conducted by local beer brewer, Speights, asked the men, if they'd cancel plans with their wife to take up last-minute tickets to an All Blacks game. Just over a quarter would pick the rugby.
- APNZ, www.nzherald.co.nz