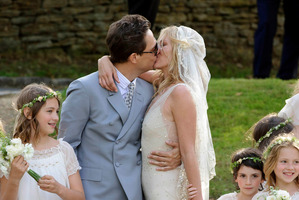 Kate Moss suffered a meltdown after posing topless with Mark Wahlberg at the start of her career, and spent two weeks in bed battling crippling anxiety over the underwear shoot.
The Brit became the world's most in-demand model after she stripped off for her iconic Calvin Klein campaign with rapper Wahlberg in the 1990s, but she admits the job traumatised her.
She tells Vanity Fair magazine, "I had a nervous breakdown when I was 17 or 18 - when I had to go and work with Marky Mark. It (the job) didn't feel like me at all. I felt really bad about straddling this buff guy. I didn't like it.
"I couldn't get out of bed for two weeks. I thought I was going to die. I went to the doctor and he said, 'I'll give you some valium.'
"It was just anxiety. Nobody takes care of you mentally. There's a massive pressure to do what you have to do (and) I was really little ... I didn't like it. But it was work, and I had to do it."
Moss found solace in actor Johnny Depp when they began dating in 1994, but she was left heartbroken when they split after four years.
She recalls, "Johnny took care of me. If I said, 'What do I do?' he'd tell me. (After the break-up) I really lost that gauge of somebody I could trust. Years and years of crying. Oh, the tears!"
Moss also told the magazine she doesn't feel comfortable in front of a camera, despite being at the top of her game for around 20 years. She finds it difficult to pose because she can't keep her face still and only succeeds when she pretends she is someone else.
Even when she married The Kills rocker Jamie Hince last year she adopted a character to make the photos easier. Her dress was designed by John Galliano and it was he who helped her calm her nerves.
"I don't want to be myself, ever. I'm terrible at a snapshot. Terrible. I blink all the time. I've got facial Tourette's. Unless I'm working and in that zone, I'm not very good at pictures, really.
"On my wedding day, I'm like freaking out, obviously. 'You've got to give me a character.' And [Galliano] said, 'You have a secret - you are the last of the English roses. Hide under that veil. When he lifts it, he's going to see your wanton past!"'
Moss is known for her slim physique, which it's been claimed started the 'heroin chic' craze in the 90s. It's something the 38-year-old is uncomfortable with as she thinks it sends out a bad message.
"I had never even taken heroin - it was nothing to do with me at all," she said.
"I was thin, but that's because I was doing shows, working really hard. At that time, I was staying at a B&B in Milan, and you'd get home from work and there was no food. You'd get to work in the morning, there was no food.
"Nobody took you out for lunch when I started. Carla Bruni took me out for lunch once. She was really nice. Otherwise, you don't get fed. But I was never anorexic. They knew it wasn't true - otherwise I wouldn't be able to work."
Kate's fashion sense is legendary, with women the world over looking to emulate her signature hippy style. Although she understands the interest in her outfits, it also means she has changed the way she dresses.
"It's why I just wear black jeans now. Or grey. If you do a different look every day, they're going to be waiting for the next look, and then it's a paparazzi shot," she said.
"Whereas if you just wear the same thing, then they get bored and leave you alone."
- WENN, COVER MEDIA