Playgrounds are no longer a domain just for kids. Diana Clement goes in search of the parks around Auckland that cater for adult exercise too.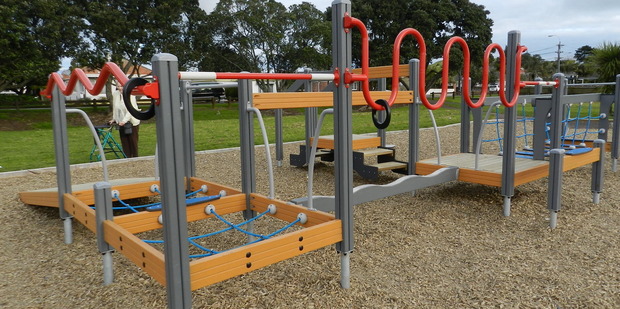 Why should kids have all the fun? And why should adults need to pay a small fortune at a local gym for a workout?
The latest trend in playground design is to provide fun and fitness for all ages. Auckland Council has recognised this and more and more adult fitness equipment is appearing in playgrounds around the city. Instead of sitting back and watching the kids play, Mum, Dad or the grandparents can get active at the same time.
The equipment is designed to be almost indestructible. Instead of pulleys, weights and other moving parks, the resistance is your own body weight. If you want to work harder, just do more repetitions or increase the pace.
Rocket Park, Mt Albert
Corner of New North Rd and Wairere Ave, Mt Albert.
Mt Albert's Rocket Park has been loved by generations of Aucklanders. Now it's attracting an adult following thanks to exercise stations that allow you to work-out all the major muscle groups.
It was at this park that I first saw this new-style playground equipment for adults.
Shepherds Park, Beach Haven
Melba St, Beach Haven.
I've long been a fan of exercising while my children are at sports games and training. It was with great pleasure that I spotted the outdoor fitness equipment at Shepherds Park, Beach Haven, the home of Birkenhead United Football Club. If the kids are playing on the top fields, it's possible to have a full body workout without missing much, if any, of the game. The park borders the Beach Haven coastal walkway, which means a workout can be combined with an off-road walk or run. If you're really keen, then duck across the Kaipatiki Bridge and up into the Eskdale Reserve.
War Memorial Park, Mt Roskill
May Rd, Mt Roskill.
Never mind able-bodied adults. The new May Rd playground in Mt Roskill has fitness equipment for seniors as well as "parkour" equipment for teens and young adults. The seniors' exercise equipment is a first for Auckland but is common in Spain and other European countries. There, local groups organise exercise mornings that bring older folk together. Parkour equipment is a bit like jungle gyms for big kids. It is popular with teens, who use the urban landscape as an obstacle course. Installing this equipment in a playground gives teens somewhere to hang out and a safe environment to develop their skills before attempting real buildings. Parkour equipment has also been installed at Pasadena Intermediate School and Cornwall Park School.
Rosedale Park, Albany
Jack Hinton Drive, Albany.
The equipment is at the very northern end of Te Ara Alexandra Pathway, a relatively new project to beautify the formerly polluted Alexandra stream. If you have time it's worth jogging, walking, or cycling up the pathway to Barbados Drive to check out the restoration. It's a great starting place for a walk, a run, or a bicycle ride.
Normanton Reserve, Glenfield
Normanton St, Glenfield.
For a park tucked into the backblocks of Glenfield, the Normanton Reserve has some mighty fine facilities. The German-made Saysu-brand outdoor fitness equipment is the best I have tried so far. What is particularly good about this installation is that there are instructions on the machines explaining how to use them. Not everyone knows how to use gym equipment correctly. I was interested to read that Saysu installs its exercise equipment overseas in shopping malls, motorway service stations, beaches, campgrounds, nursing homes and hospitals.
Warren Freer Park, St Lukes
Cornwallis St, St Lukes.
Speaking of shopping malls, there is outdoor exercise equipment right next door to St Lukes. If, like me, your tolerance for shopping is short-lived, the exercise equipment at Warren Freer Park might offer a great escape. I'm told local softball mums whose children play at the park, lobbied the council for outdoor exercise equipment to be installed there.
Marlborough Park, Glenfield
Chartwell Ave, Glenfield.
The good people of Glenfield are well served with outdoor exercise equipment. Marlborough Park in Glenfield has newish exercise equipment that rivals its near neighbour Normanton Reserve. The leg press and "Twister" are especially popular. The latter is designed to exercise the core muscles in a low impact way that even older or ess mobile folk can take advantage of. Marlborough Park has a large skate park and high swings for older children and teenagers.
Rotary Walkway, Farm Cove
Bramley Drive, Farm Cove.
This equipment is outside the Pakuranga Sailing Club and just a few metres away from one of Auckland's more unusual playgrounds, the Snakes and Ladders Playground; a giant snakes and ladders game on a hillside. The other notable point about this adult playground is its positioning on the Rotary Walkway, which runs along the coast from Pakuranga Rd to Pigeon Mountain along the Tamaki River and Wakaaranga Creek. Walkers, cyclists and runners stop halfway for a quick workout before continuing on.
Walter Massey Park, Mangere East
Corner of Massey and Buckland Rd, Mangere East.
Local Pasifika kids dressed in their Sunday finest were having a whale of a time on the fitness equipment at Walter Massey Park when we visited. This was a common theme at parks with exercise equipment. The kids have fun on it while Mum or Dad get fit.
Ngati Otara Park
Corner Otara Rd and Alexander Cres, Otara.
The chin-up and sit-up stations at Ngati Otara Park were fully utilised when we arrived just on dusk. A local gridiron team was training there. The equipment at Ngati Otara is limited, but it's a huge park, which the Otara Creek walkway passes through.
Old-style fitness trails
Even if there is no new-fangled exercise equipment in readers' neighbourhoods, there are some pretty good old-style fitness stations at a number of parks and playgrounds around the city. For example the 3.6km circuit around the Panmure Basin, a volcanic crater filled with seawater, has a number of stations for chin-ups, press-ups and other exercises. There are similar exercise stations around Bayswater Park in Bayswater Avenue on the North Shore.
More new and old-style fitness equipment can be found at:
North
* Cadness Reserve, Northcote
* Greenslade Reserve, Northcote
* Normanton Reserve, Glenfield
* Rook Reserve, Albany
* Unsworth Reserve
Central
* Fowlds Park, Mt Albert
* Grey Lynn Park
* Michaels Ave, Ellerslie
* Walker Park Pt, Chevalier
* Western Park, Ponsonby
East
* Howick Domain, Howick
* Logan Carr Reserve Botany
* Meadowland Park, Howick
* Somerville Par, Howick
South
* David Lange Park, Mangere
* Jellicoe Park, Manurewa