Try a tasty loaf and swap bacon for seafood for a creative change.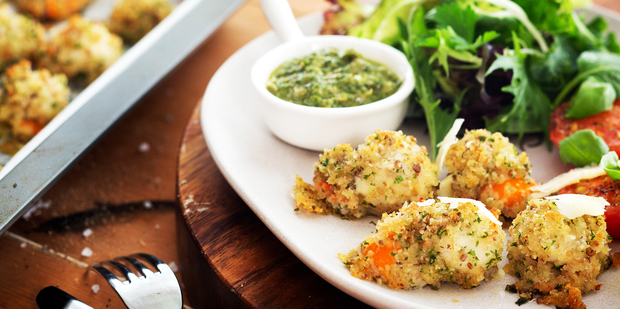 A leisurely brunch can be one of the nicest meals of the day. Sitting in the sunshine, reading the paper, sipping the coffee is lovely but the traditional bacon and eggs don't always cut it. Today we have alternatives - three delicious recipes that are easy to prepare and offer scrumptious flavours.
The last time I was in Melbourne, banana bread appeared on every cafe brunch menu and made for a nice alternative to a pastry or a muffin when needing a little something sweet with your morning coffee. Banana bread is not actually bread but more a loaf and is delicious when toasted. I grew up with the smell of fruit loaves baking, with all sorts of dried fruit and banana crammed in. A slice in the lunchbox with a smear of butter left the sandwiches for dead. I have paired the flavour of coconut with the tropical flavours of mango and lychee but grilled pineapple, pawpaw and passionfruit would also be delicious. Fold the ingredients together gently to ensure the bread has a light texture.
Homemade baked beans are a brilliant brunch dish; fantastically healthy comfort food. I have kept the dish vegetarian but you could add bacon or chorizo if you fancy. This is very easy to prepare, all in one dish, and cooks happily in the oven for a couple of hours, allowing plenty of time to relax and ease into the day.
I love fresh seafood at this time of day. It provides a light and fresh alternative to the bacon usually served. Small fillets of fish, tasty sardines or, in this case, scallops, are a great option. Transform them with a coating of crumbs for your brunch option. Just remember to alter the cooking time to suit the type of seafood you're using.
Chef's tip
Fresh lychees and longans are found at Asian fruit and vegetable stores. Lychees are juicier and both have a papery skin to peel off and a stone in the centre. Salsa verde is literally green sauce and can be made with whatever combination of herbs you like. Some add capers and cornichons, some add boiled egg and anchovy - whatever takes your fancy.