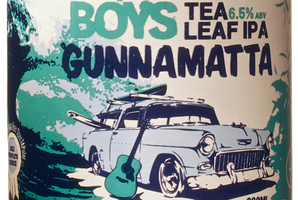 Though spring is beginning to tease its way around the corner, there is still time to settle down in front of the fire and enjoy a good winter beer while you can feel the chill in your toes.
Stu McKinlay and Sam Possenniskie of Yeastie Boys call themselves beer activists, eager flavour entrepreneurs who are not afraid to take risks with their flavour profiles and face the reckoning. Theirs is the only brewery to ever win two trophies for a single beer at the Brewers Guild of New Zealand beer awards, for the oft-praised Pot Kettle Black. At times, they have also divided the critics, as with the infamous Rex Attitude, a beer made with 100 per cent peated malts. This beer for scotch lovers is a particular favourite in my household.
But for the last weeks of winter, we wanted something unique so opened two seasonal releases from the Yeastie Boys stable. "Her Majesty 2012" is a traditional scotch ale, dark and malty with just a touch and fragrant sweet earthiness. There's also a secret ingredient that supplies the complexity.
It comes in a big 750ml bottle, perfect for sharing with friends before a big Sunday roast, a true 'beer to share.'
For those who want something luscious but not as dark, treat yourself to a Gunnamatta - a "dry-leafed" India Pale Ale made with Earl Grey Blue Flower tea instead of hops. Made by request for the Great Australasian Beer SpecTAPular 2012 festival, this is a beer to take you on a wild, conceptual ride. It will leave you thinking of summer days to come, while sipping cups of tea with rain against the windows. Stu says. "I just got fed up with chocolate and coffee beers being the trend du jour and thought it was time to put tea into the limelight. I grew up in a tea drinking family, so it has always been my hot drink of choice." Brilliant work, we thought - it was refreshing and comforting all at once.
However, not convinced that we are entirely over the coffee and chocolate craze, we thought The Epicurean - a coffee and fig imperial oatmeal stout seemed just perfect for those thunder and lightning storms last week. Luke Nicholas of Epic Brewing has created a "beer to share" that sings tribute to eight distinct malts and delightful flavour surprises of caramelised figs, toasted coconut and whole coffee beans (the 2012 release features Kenyan coffee). A creamy head offers everything you ask for in a stout with a robust flavour punch, rich smooth mouth-feel and caramel, coffee and fruit tones. So popular it often runs off the shelves, the 2012 release is brewing right now and will hit the shelves in 3-4 weeks.
Where to buy
Yeastie Boys: Liquorland, Glengarrys, bars and specialty stores.
Epic: Liquorland, bars and specialty stores.