Herald on Sunday Rating: 5/5
Address: 21 Hurstmere Rd, Takapuna, Auckland
Ph: (09) 929 2791
Website: thecommons.co.nz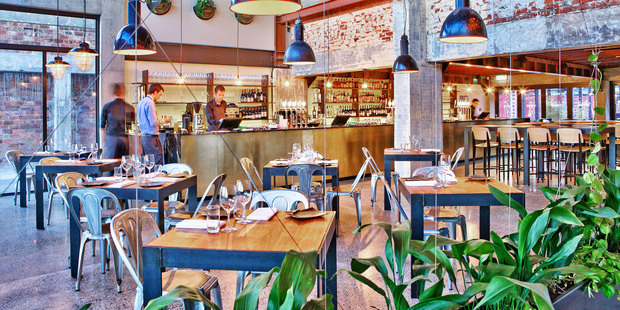 A few weeks ago, in a review of a restaurant in Takapuna that serves what purports to be Mexican food, I remarked that "no one ever went broke underestimating the taste of people who live north of the bridge". The expected hate mail never materialised (though a colleague, a man of impeccable taste, managed a snide aside or two); whether that's because the charge sticks or because the good people of Glenfield and the Bays couldn't give a toss what a poncy snob from the South Shore thinks, I'll never know.
The people behind The Commons plainly have greater trust than I do in the folks up north. Their impressive new eat-and-drink zone in the main street of Takapuna, barely a week old when we visited, offers quite superb food and adds a touch of real class to a suburb that has always been sorely lacking in good dining.
The Commons is among the first tenants of a major development called the McKenzies Project. It's named for the main building's longtime occupier, a retail store that anyone born before 1970 will remember. The Professor remembers it well.
She shoplifted a lipstick from its Whakatane branch when she was 10 (she denies this now, but I think she's repressed the memory; I've told her her secret is safe with me).
The redevelopment, which will include retail, is another project by the very busy team at Pack and Company (Imperial Lane, Libertine) - it's getting hard to find a restaurant in Auckland that they don't own - and follows the Imperial Lane model in having various options: a small bar, a tapas bar and a bistro. A fine-dining room is opening in a few weeks.
I was very enthusiastic about chef Nick Honeyman's food at Dallows (later Cru) at Sale St - he was a whizz with imaginative purees, and his unlikely pairings (scallop and cauliflower; duck and cherry) made for genuinely interesting dining - but I couldn't bring myself to go back because the place, separated from the barn-like bar only by a curtain, was so infernally noisy. The Commons has a buzz about it, but you don't have to shout to be heard.
And it's a pleasure to report that the food has done more than survive the transition: it seems to have grown in maturity and assurance. I can't remember when I last saw a menu as irresistibly interesting as this one, which lists five entrees, mains and desserts at $22, $36 and $15 respectively.
For the adventurous, the front of the menu lists dishes by keywords, sometimes with just the main ingredient (lamb, say, or celeriac) but mostly with a word or phrase that is either striking (vanilla salmon; carrot-cake snapper) or enigmatic (tails). More detail is on the back, but there's no florid menu phraseology: Honeyman does his talking on the plate and if you've got any sense, you listen.
I was enthralled by a dish that paired scampi and pork tails - the crackling was a thick gritty sprinkle on top - with a parsnip puree and dark aioli suffused with roasted garlic. The Professor's salmon was an extraordinary combination of summery flavours. A coconut sorbet and grace notes of vanilla and mint made it almost like a dessert, and the pickled cucumber lent a cool oriental touch.
The same inventiveness and skill distinguished the mains. To judge by the thickness of its breast meat, the duck must have been the size of a labrador, but it was superbly moist and pink and the billed "panang" treatment was a coconut milk curry custard, which adorned the meat rather that swamping it.
The dessert offering of a roquefort and white chocolate bavarois intrigued me, since I'd enjoyed a cheesecake made with that smelly blue sheep cheese at Sidart when it first opened. Honeyman's dessert again showcased his subtlety of touch: the cheese was a musky hint in the creamy dessert, which included milky chocolate and poached pears.
The only downside of this food, the Professor remarked as she licked her plate clean, is that it inhibits conversation, because it strikes you dumb with sheer pleasure. Certainly there were long periods of silence at our table.
They could do with more local boutique beers to accompany the four Australian offerings and the (very friendly) service, at once hesitant and rushed, can only improve with time. But it's hard to recommend this place too highly.
Need to know
Value: $$$
$ = $20-$40; $$ = 40-60; $$$ = $60+.
(Price guide reflects three courses for one person without drinks.)
Verdict
Nick Honeyman brings superb food to Takapuna.