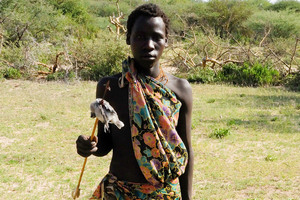 Office workers sitting at a desk all day burn the same number of calories as hunter-gatherers living on the plains of Africa, new research shows.
Experts have for years assumed our ancestors used up more energy trekking for food and blamed the obesity epidemic in some western cultures on our lack of exercise.
But a study by the Hunter College in New York suggests the rate at which humans use up calories is relatively constant and shows that expanding waistlines are more likely down to our greater consumption of food.
"The vast majority of what we spend our calories on is things you will never see like keeping our organs and immune system going," anthropologist Herman Pontzer said.
"Physical activity is just the tip of the iceberg. If you spend a bit more [energy] on something like physical activity, you spend a bit less on something else ...
This study shows that you can have a very different lifestyle, but [energy use] all adds up to the same level no matter what."
The research - the first to measure energy expenditure in hunter-gathers - looked at Hadza tribespeople living on the open savanna of Tanzania who trek great distances each day to forage and hunt for game. They burned no more calories than a group of Americans and Europeans.
Dr Pontzer said that "for the most part" it is the amount eaten, and not lack of exercise, that is making us fat.
However, exercise is still important for general health.
The researcher, who details his findings in the journal PLoS ONE, told the Daily Mail: "Exercise is important in preventing heart disease and diabetes. It just probably isn't a big part of the answer for the obesity issue."
Kelsey Soar, a graphic designer at Tonkin and Taylor in Newmarket, central Auckland, sits at her computer at work for about eight hours a day.
"I find it hard. I feel like I need to get out more ... which isn't always easy."
The 24-year-old said the study results were surprising and she made an effort to exercise as much as possible during her lunch break.
She often participated in a "boot camp" in the Auckland Domain or social club soccer with colleagues.
"It's a way to get people out of the office. We're quite an active place and we try to get everyone involved."
Miss Soar also played hockey and went to the gym after work.
Up to one in three people worldwide are overweight, and one in 10 obese, according to the World Health Organisation.