Chris Cleave's novels closely shadow real-life events. He tells Stephen Jewell how his latest, Gold, about two female athletes competing at the Olympics, almost suffered a major technical setback.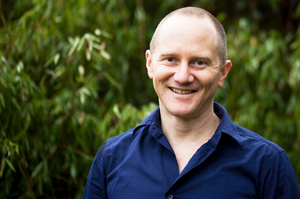 British writer Chris Cleave's debut novel, Incendiary, a tale of homeland terrorism, created a great deal of controversy because, by pure bad luck, it was released the very day of the devastating July 2005 tube and bus bombings in London.
So when I interviewed him later at his Kingston home in southwest London just before the publication of his 2008 book, The Only Hand, he was really worried he would never be given the chance to write another novel. But after selling over half a million paperbacks of The Only Hand in Britain alone, he should be quietly confident about the prospects of book number three, Gold.
Not that the self-effacing 38-year-old is allowing his burgeoning success to go to his head. "Did I really say that?" he asks. "It was very honest of me, because it was true. I was very worried and nervous. I was going nowhere then. Incendiary had come out and although it had been a critical success, it was a sales disaster, which made me feel really bad because everyone had taken a bath on it. I really do like everyone to be happy, because as much as this is a business, it's also my life and the relationships I form with my publishers are important to me.
I felt like they'd taken a risk on me with Incendiary and I'd let them down."
With Incendiary opening with a group of terrorists blowing up Arsenal's football ground, Cleave was unfairly accused of opportunism and exploiting the suffering of others. "I look back on it now and it seems like a really interesting book," he reflects. "I have a real soft spot for it. It was a very honest book that was written straight from my heart without my brain being that engaged at the time. I think I'm at my best when I write like that. It was like that book was born under a bad star but it's not a dark book. It was a book about love - but then all my books are about love."
After tackling the issue of illegal immigration in The Other Hand, Cleave explores another timely topic in Gold. Noticeably less political than either of his first two novels, it centres around British cyclists Zoe Castle and Kate Meadows' personal bids to win the women's sprint and individual pursuit titles at the London Olympics, which open next week.
"I always try to look two or three years ahead to work out what the biggest news story in town will be and how I can write about it from an angle that genuinely surprises people," he says. "I did that with The Other Hand and I've done it again with this book."
According to Cleave, the Olympic ideal is actually darker than most sports journalism would lead you to believe. "They tend to concentrate on the brighter, shinier side," he says. "The Olympic motto, 'Faster, Higher, Stronger', is a very positive message but what novelists can examine is not just what it means to win but to beat someone. They are two different things. Beating someone is an animalistic, emotional, intimate and complicated experience, especially because that person is likely to be your greatest rival, who is most likely to be the person who knows you best and, in a weird way, is also your best friend."
Starting at the 2004 Athens Olympics, Cleave depicts Zoe claiming the gold in the women's individual sprint, which was actually won by New Zealand's Sarah Ulmer. However, the inspiration for the novel's two main characters comes from British former rower-turned-track cyclist Rebecca Romero. After being disappointed at achieving only silver in the quadruple sculls in Athens, she switched disciplines and won gold for the individual pursuit in Beijing. Having posed nude on her bike for a sports drink commercial, Romero could also have influenced the rebellious Zoe's racier exploits, although Cleave begs to differ.
"Neither Zoe or Kate are actually based on her and I say that strenuously because I don't think she's a psycho," Cleave insists with a wry laugh. "In fact, I'm sure she's quite a lovely person. I've never met her but I've obsessively watched every interview she has ever done. Her absolute drive to succeed and the calm focus with which she applies herself can seem totally alien to other people.
"She's so focused and scary but I really like people who have that edge to them, which is like, 'if you step up to me, then I'm going to beat you'. I'm not like that but I'm interested in people who are, and I was fascinated by the two seemingly opposing aspects of her character, which was her extraordinary determination and the fact she's also a lovely person. I thought 'what if I separate those qualities into two characters', which is how Zoe and Kate came about."
Having originally envisaged a pulsating conclusion with Zoe and Kate competing for honours at London 2012, Cleave was forced to rethink the entire novel after an unexpected I.O.C. rule change in late 2009 meant that only one cyclist from each nation could compete in the sprint events.
"It almost destroyed me because I was very keen to make this book realistic in every detail," he admits. "I had to go back to the drawing board as it had become a race for selection rather than a race for gold. It didn't change what I needed to do emotionally but it completely altered all the timescales of the plot.
"It was obviously not as bad for me as it was for those athletes who have since been deselected but the news hit me like a lightning bolt. But it's probably a better story because of it, as the stakes are definitely higher now and the winner really does takes all. They probably did me a favour but it didn't feel like it at the time."
Gold (Hachette $39.99) is out now. Chris Cleave tours New Zealand next month.