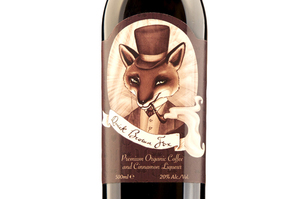 Dunedin is a surprising, enterprising sea-change sort of place it seems, still full of pioneer spirit left behind from the early settlers. At least, it seems that way, especially when talking to Arjun Haszard of Quick Brown Fox. Formerly a coaching development manager for Swimming NZ, he didn't know much about coffee or liqueur-making but when life and love brought him to the deep South, it was the catalyst for a bright new direction.
Quick Brown Fox is the result, a hand-brewed organic coffee blended with the perfect amount of cinnamon for spice and depth, with a neutral spirit base. As Arjun and I talk in a Britomart coffeehouse, he tells me of endless hours of experimentation to get the best coffee flavours possible. He works with a local coffee roasting company and uses only their fair-trade organic beans, roasted especially.
The cinnamon is also organic and the spirit base is made from grain, not whey, so it's suitable for vegans. Part environmentalist, part scientist, part libertarian, part socialist, Arjun's inspirations were the night owls at arthouse cinemas, theatre-goers and after-dinner cocktail drinkers who were looking for the sophistication of an espresso drink after dark.
Sophisticated is the only word to describe the crafty wee fox on the label, designed by local Dunedin artist Fiona Johnston. The fox woos you to share a bottle with friends around a fire after a great night of entertainment and conversation. It would make its creator very happy, if you'd do just that. His original idea was of just such a social drink, served neat, over ice, or with milk or cream if you prefer.
Picked up by ingenious bartenders up and down the country, Quick Brown Fox is also making an impression in cocktails. Next on the list is a decaffeinated version. That kind of creativity and evolution seems only natural.
We tried it several ways and were impressed with the coffee flavours, full of depth but not bitter, overly oily or too sweet as other liqueurs might be. We found the slight "kick in the tail" of the cinnamon a real enhancement. An amazing nose and decadent nightcap, try adding this to your next dinner party for a treat.
Where to buy
Available from The Whisky Shop, the Wine Vault and online or when dining or drinking at Clooney, Mea Culpa, Suite, Libertine. Retail price $32.80.