To while away the cold days, Sarah Lawrence gets off the couch to train for the Lake Taupo Cycle Challenge.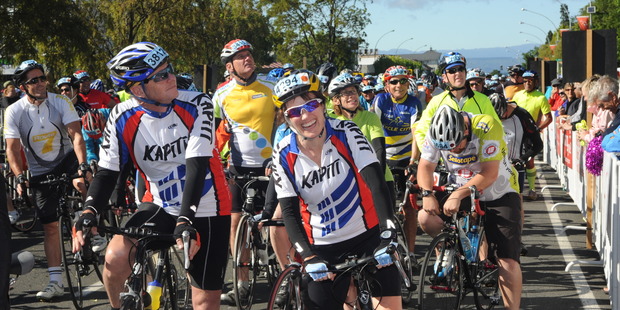 The bitterness of winter has set in. Summer seems a lifetime away, I don't have the cash for a mid-winter getaway and my wobbly bits are even wobblier from too many carbo-loaded winter casseroles. I decide there's only one thing for it. Exercise. What better way to survive the monotony of winter than to get the heart rate up and the blood pumping, with the added benefit of being leaner and fitter by the time summer comes around.
My dad is a veteran cyclist and I've spent many an hour camped sideline on a course, ready to whoop and cheer as he sped by. One of the most memorable events is the Lake Taupo Cycle Challenge. Not only because it's a pretty fierce endurance race throughout some of New Zealand's most stunning scenery, but also because it's open to cyclists of all ages and abilities. And seeing as that includes me, I've decided to follow in Dad's footsteps and enter this November's race.
The course is approximately 160km. Of last year's 9000-some people entered, more than half the field rode the entire course alone. There are also relays, tandems, enduro (two, four or eight laps - mad, mad men) and there's even a kids' event.
I've heard it described as a "carnival of cycling" with a wide range of entrants - from elite and seasoned riders, to social groups and newbies just like me. I've decided this year I will enter as a relay rider and attempt two 40km legs.
I've enlisted the help of a coach, experienced cyclist Amy Taylor, who wrote the Lake Taupo Cycle Challenge Guide, a great book packed with all sorts of helpful tips to prepare and train for the big day. She agrees this is a good distance to start with, based on my experience and the amount of spare time I have to train. Amy has been coaching for 16 years and is the development manager for BikeNZ, the national organisation overseeing cycling in New Zealand. Her website thewholecyclist.com also shares a wealth of knowledge, with articles and blogs.
Amy tells me there are three main areas to focus on when I am building a training programme. First, I need to train consistently, which simply means keeping to the same number of sessions each week. I'm going to start with two a week, working up to three or four.
Second, Amy tells me I need "consistent variability" in my rides, which means I need to keep varying my training every time I get on the bike.
Varying the intensity - for example the number of hills, the speed I keep to - and volume of my rides is important because it "stresses" my body into improvement. No coasting down hills only for me then.
Once I have mastered the first two steps and see an improvement in my fitness, Amy says I should then work on my skills base, which includes getting involved in some bunch rides with other cyclists. Apart from meeting like-minded people and having someone to train with, bunch riding is very helpful during a long race because it gives riders a chance to rest by taking turns to draft off other riders in the pack. Most bike shops run regular group rides early on weekend mornings.
Above all, Amy stresses that many novice cyclists tend to make the mistake of focusing on the outcome rather than breaking down training into manageable steps and setting reasonable goals along the way.
So, my training over the next month will be working to improve my fitness, then I will join Amy for a skill session - concentrating on hill climbs, effective pedalling, efficient breathing and even how to eat while riding.
In a few months, I'll look to enter some small events and then intensify my training up to the big day on Saturday November 24, by which time the doldrums of winter will be nothing but a distant memory.
Put the wheels in motion
The Contact Lake Taupo Cycle Challenge: Saturday November 24. Online entries are open now until November 1 at cyclechallenge.com. Entries $110 per adult, $22 for the kids @ heart event. Enter before September 30 to go in the draw to win a Polar bike computer. Entrants will automatically be signed up to BikeNZ's RideStrong, New Zealand's cycling community.
The main start and finish is on Tongariro St, with plenty of family events during the day at the Tongariro North Domain and Great Lake Centre.
Join the facebook community to find training buddies, check out the website for regular updates, training and nutrition guidelines and more.
Amy's website has great philosophy on riding and tips.
* Follow Sarah's training progress on nzherald.co.nz. Regular updates will be posted via the Life & Style section.