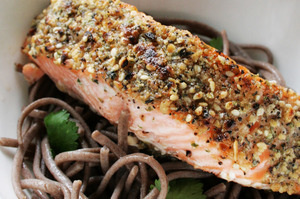 When Sue and Brian Pilkington realised Sue's aunt and uncle were looking younger after a few years living in Hahei than they were when they first retired, it cemented their own idea to escape Auckland and move to the beautiful Coromandel.
They bought a park-like property covered in macadamia trees and embarked on their new, slower life. "The nuts had never been harvested and the rats were having a great time!" says Sue. Realising the macadamias were way too tasty to be rodent food, the couple began collecting them and Sue, an ex-home economics teacher, started finding creative ways to use them.
The obvious starting point was the perennial favourite, chocolate-coated macadamias, which Sue started selling at the local markets. Business ticked along nicely until her sons returned from overseas and came on board as sales and marketing managers. The orchard was certified organic in 2011 and Sue and Brian follow the philosophies of the Slow Food movement.
As a family they decided to re-focus the business on the health benefits of macadamias. This coincided with the annual Scallop Festival in Whitianga where they created a tasty crumble for the seafood with no colourings, additives or preservatives. It was a huge hit and has been voted best dish of the festival every year since 2005.
The sprinkles contain macadamia meal and sea kelp and are flavoured with lemon, sweet chilli or garlic. They can also be used as a crumb and are delicious, especially the chilli flavour. The lemon flavour is also excellent and super convenient as you can just roll the fish in it directly, no flour or egg needed, and fry or bake.
Other products have evolved including a muesli, dukkah and flour. I made Sue's chocolate brownie using the macadamia oil and the flour mix which contains crushed macadamias. It made for a heavenly afternoon tea sweet.
For frying, the macadamia oil has a high smoke point meaning it remains un-oxidised for longer, and is therefore healthier. It is one of their top sellers. The chocolate-coated macadamias are still part of the range - after all, you can't forget where you started.
Where to buy
Online at cathedralcovemacadamias.co.nz; La Cigale Market on Saturdays; Oceanz Seafood at Farro Fresh Lunn Ave Mt Wellington.