The New Zealand Woman's Weekly celebrates its 80th birthday this year. Catherine Masters discovers how the magazine has reflected our lives over the decades.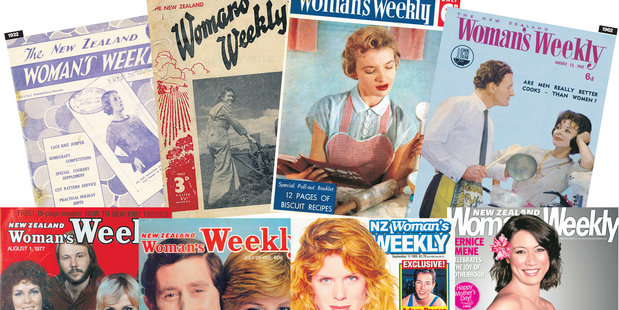 The New Zealand Woman's Weekly burst into life 80 years ago with a "beautiful lace knit jumper" on the cover and an enticing list of features waiting to be devoured inside.
There was the promise of homecraft competitions, practical holiday hints, clothing patterns and the first instalment of what was described as an "absorbing serial story" which, readers would find out, meant a romance or three.
A new household name had been born and the magazine, packed with information on anything from knitting and baking to housekeeping and child-rearing, plus the essential agony aunt advice, helped women through the Depression years, the war and post-war years and the ensuing decades of change.
Not featured on the cover of that first 1932 issue was the forgotten aspect of this first-of-its-kind magazine for New Zealand women - the serious social and feminist commentary.
Journalist and author Isabel M. Cluett wrote a full-page essay on whether a woman had a right to have both a family and a career.
"First and foremost, it should be admitted that a woman has the right to please herself as to her way of life," she said.
What a breath of fresh air that must have been to women who did not fancy a life of domestic duties.
Cluett's article went through the pros and cons of whether a woman was "playing fair" to juggle a career and a family but she didn't reach a conclusion to this vexed question of the 1930s.
Instead, she asked at the end, what did the reader think?
The magazine throughout the years has constantly asked what the reader thinks and this has played a big part in it reflecting, and sometimes influencing, social change.
When you flip through its various eras, it's apparent that substantial change has taken place over the years - but in other ways not much has changed at all.
A recent cover story featured TV3 journalist Rachel Smalley holding a child with the headline: "Why I'll Never Be a Supermum". Working mothers are now the norm, but the dilemma of how to manage both the job and the family remains.
And though some features of the magazine have changed, many haven't.
Agony aunts are still there, crosswords and star signs are there, cooking, crafts, babies and fashion are all there. So is the long-running Over the Teacups page, where readers send in small, chatty contributions.
Over a cup of tea, current editor Sarah Stuart chats about the magazine's past, including formidable chain-smoking Hedda Dyson, the Weekly's second editor, who reigned from 1933 to 1948. Dyson had opinions on everything and was not afraid to share them.
One month in 1944 she was writing about the Women to Wellington Movement, which was trying to get women into Parliament, and the next was writing about the war - "sooner or later we MUST bring the fight into Germany or be conquered".
That same issue featured a double page spread with the headline "Happiness for Cripples" which was about caring for disabled children and also a story on Hollywood stars "racking their beautiful brains" for a way to maintain their exotic appearance in the face of an impending clothes shortage.
Says Stuart of Dyson: "She was amazing. She would write about Stalinism and all kind of things in her editorials. Apparently she smoked packets of cigarettes every day and she travelled to Hollywood and met up with Hollywood stars."
Stuart says the mix of Hollywood glamour, royalty, food, domestic tips and social issues has always been part of the magazine, though, with so many other magazines now on the market it's hard to live up to that searing commentary of the early days.
Back then the Weekly was the only magazine of its kind, but now people don't buy the magazine for its stance on political or social issues, she says, though it's important to keep that in there.
This year, for example, the Weekly featured TV personality Tamati Coffey's wedding on the cover. Coffey is gay and the fact the magazine had his nuptials on the cover and called his civil union a wedding incensed some of the readers.
"But we got a tiny, tiny backlash compared to what I thought it would be, and mostly it was about the fact we called it a wedding. I thought it was a really important thing to do as a bit of a statement."
She says the magazine still both reflects and drives social change.
"A lot of [our readers] are not in metropolitan areas. We have really good penetration in smaller towns throughout New Zealand and so while you're living in Grey Lynn that might seem like 'of course that's what you do' it's not really like that necessarily in smaller towns in New Zealand.
"So, yes, I thought it was important that we ran that story and that we ran it as a huge, big colourful celebration, which is what it was, complete with dogs in small tutus."
Former editor Jenny Lynch (1987 to 1994) was a staff writer before becoming editor, working under the Weekly's longest-running editor, Jean Wishart (1952 to 1984).
She says Wishart was not inclined to push her political views like Dyson, though that did not mean important social issues were not covered.
"During the 70s and the 80s we covered quite contentious topics," says Lynch. "We even tackled abortion at one point. And rape. There was a survey conducted by Miriam Saphira through the Weekly that looked at rape and there were many reader responses to that."
The Weekly was never afraid to take on those tough issues, Lynch says. But it was also taking on the less important issues. Lynch recalls another big issue of the 1970s was Farrah Fawcett's hair; the magazine ran a lookalike contest.
This probably reflected the growing influence of America and television on New Zealand but though in the early days of Lynch's editorship the covers on foreign celebrities sold well, along with the ever-popular British royal family, the arrival of new kids on the block Woman's Day and New Idea in the 1980s led to the era of the New Zealand celebrity.
The Australian magazines launched New Zealand editions and became big-time competitors for the Weekly. "It impacted in the sense that they probably introduced the era of the celebrity," says Lynch.
The Woman's Weekly was even immortalised in song by a pair of young lesbian sisters from Huntly.
Jools Topp, of the Topp Twins, explains on the phone that you have to sing this to the tune of My Old Man's An All Black (which is sung to the tune of My Old Man's a Dustman) and says it's really a comment on the royals.
The lyrics are:
Our old Queen's a royal,
She wears right royal hats,
She wears gorblimey dresses,
And she spits on council flats.
And when I'm frantically waving,
I hope that she sees me,
Push it, shove it, stick it in the Woman's Weekly.
"That was in our radical days and we thought we were going to change the world and, you know, every time you looked on the cover of the Woman's Weekly there was the royal family. In all honesty, not that much has changed," she says, laughing.
But Topp is affectionate towards the magazine which has always been present in her life.
Topp says she and sister Lynda have featured about five times over the years, including when Jools was going through chemotherapy for breast cancer.
She reckons that in New Zealand "we might pooh-pooh something when we're younger, but tell you what, anything that reaches 80, you have to take your hat off to them".
The Topp Twins grew up on a dairy farm in Huntly and Jools remembers her mother Jean never missing her copy of the Weekly and says she still reads it today.
What part does her mum like the best?
"Every bit of it," says Topp. "She knits all the patterns and everything, knits all the bloody patterns, yep. We've had the odd feral jumper, yeah.
"What you've got to really take your hat off to the Woman's Weekly is by Christ their readers are loyal as all get-out. And they've been good to us, they've really honoured us as musicians and people."