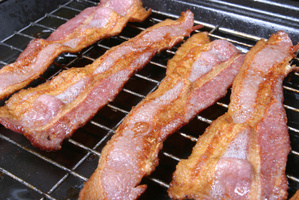 Judges in the 100 per cent New Zealand Bacon & Ham Competition will be putting the best offerings of Kiwi butchers and retailers to the test next month.
The 100 per cent NZ Bacon & Ham Competition was established to celebrate New Zealand's finest cured pork products and to help consumers identify and appreciate local, sustainable bacon and ham, and support New Zealand farmers.
NZPork chief executive Owen Symmans says 700,000 kilograms of imported pork arrives in New Zealand each week, so it is vital that shoppers be aware of what is homegrown and what isn't.
There are five bacon categories, Middle, Dry Cured Middle, Shoulder, Streaky, Middle Eye and two ham categories, Bone-In-Ham and Boneless Ham.
The 32-strong judging panel members rate the ham and bacon on aroma, texture, appearance, saltiness, sweetness and overall tastiness.
This year's panel includes television chef and cookbook author Simon Holst, President of the National Chef's Association Anita Sarginson, food writer and cookbook author Jan Bilton, and chef and food writer Graham Hawkes.
New in 2012, the Consumers' Choice Award will give the public a chance to 'TXT-to-vote' for their favourite bacon and ham maker.
In 2011, the 100 per cent NZ Bacon & Ham Competition received 238 entries from 70 businesses.
2011 Bacon of the Year was a Dry Cured Middle Bacon from Ashby's Butchery in Christchurch and Cashmere Cuisine also of Christchurch took out the 2011 Ham of the Year.
Magills Meats' streaky bacon was named one of the top rashers in New Zealand in 2011 - owner Mike van der Hoeven being awarded a silver.
Mr van der Hoeven developed the bacon with European small goods manager Mihai Oltean.
"We worked on the silver award winning dry cured bacon for almost three months and I'm more than satisfied with the results," Mr van der Hoeven said at the end of last year's event.
But he was also determined to 'go for gold' this year.
Mr van der Hoeven says the streaky bacon is back - but they have perfected the product and it's even better than last year.
Magills have also entered their standard bacon and dry cured ham and are looking forward to good results.
Entries close on Friday, June 22.
The 100 per cent NZ Bacon of the Year and Gold, Silver and Bronze bacon medallists will be announced on July 23 and the 100 per cent NZ Ham of the Year will be announced in late October.