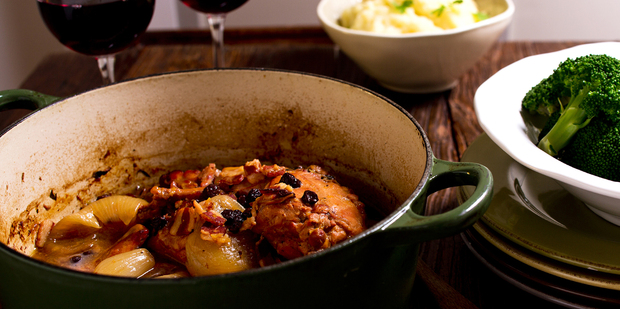 Serves 4
1 rabbit
1 Tbs butter
1 Tbs olive oil
125g streaky bacon
1/2 cup currants
Zest and juice of two oranges
12 pickling onions
1 Tbs plain flour
2 cups of hot chicken stock
1/2 cup sherry
4 sprigs of thyme
Salt and freshly ground black pepper
1 Preheat the oven to 160C. Portion the rabbit or ask the butcher to do it. Heat the butter and olive oil in a cast iron casserole large enough to hold all ingredients.
2 Slice the bacon and brown in the dish. Remove then brown the rabbit pieces. Return the bacon to the dish.
3 Add the remaining ingredients, cover and cook for 2 hours. Serve with mash and broccoli or green beans.