Too exhausted to enjoy a romantic evening? Danielle Wright and her husband take a spa for two - and restore their fifth element.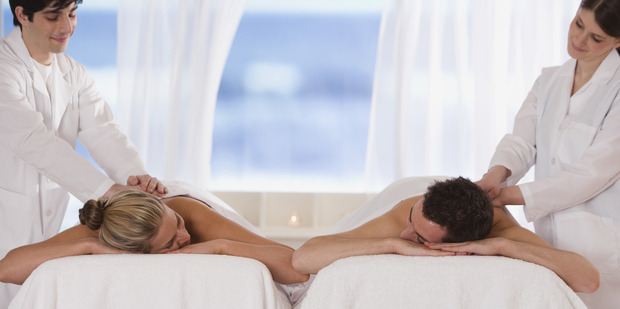 After a long day working and looking after small children, we're often too tired to make the most of our rare date nights, yawning through dinner at an expensive restaurant or sitting in a pub so loud we can't hear each other.
For a change, we book a couple's spa treatment at Chuan Spa at The Langham Hotel. Although, at first, my husband wasn't too keen, from the moment we enter the Contemplation Room, we know it's a good idea.
Soothing music along with the scent of aromatherapy oils help us unwind as we sip Osmanthus Blossom green tea and fill in a questionnaire about how we're feeling.
Chuan Spa's treatments are based on Chinese medicine and the five elements of wood, fire, earth, metal and water. It turns out we're both missing the earth element today so our treatments are tailored to restore our missing fifth element.
We go our separate ways through the changing rooms into the tri-bathing ritual.
First up is a snail shower, which has water jets from all angles, then a sauna, followed by an ice experience that promises to increase metabolism.
Next is a herbal steam room and sauna in a room, with tiny tiles covering every inch of it, boasting 100 per cent humidity.
The idea is to go from hot to cold to hot, following the principles of yin and yang, to show polar opposites and how they interconnect. Initially, the sight of a big tub of crushed ice is daunting, but after a hot sauna it is the most refreshing and rejuvenating experience and was our favourite part. If only every home had one.
From the tri-bathing changing rooms through a door marked Spa Guests Only, we enter Chuan Spa's inner sanctum where private rooms behind sheer curtains, bamboo sticks from ceiling to floor and flickering floor candles await. It has an opulent, classical Chinese feel to it.
It's here we meet each other again and head to our treatment room, which has two treatment tables side by side. Our therapists tell us a bit about Chinese medicine and take us through our treatments - a massage for him and a facial for me. It's more fun having my husband here with the therapists; I don't feel I have to make so much small talk.
After the treatments, we are taken to the Dream Room, where we are presented with water, a small glass of beetroot, turnip, carrot and peppercorn juice, and Chinese tea.
A selection of macadamias, pistachios, dates and apricots are also offered for us to nibble on and relax, with no pressure to get up and leave.
If we had more time, we could have had another tri-bathing ritual or met up at the outdoor saltwater swimming pool and Jacuzzi, or gone downstairs for a cocktail or afternoon tea in the Langham.
Instead, we head home just after the rush hour has finished and return to our children as if we have been on a weekend away at a health retreat.
It's something we had never thought of doing together before, but a couple's spa treatment is the perfect date night for busy parents.
Spa treatments for couples
Chuan Spa at The Langham, Auckland, has couple's options on many of its treatments, such as the Chuan Harmony 60-minute massage ($295 a couple). For details see Chuanspa.co.nz or phone (09) 300 2960.
Other options for couples include Sky City Grand Hotel's East Day Spa, which does a harmony massage for two, or Spa at The Pullman Hotel's greenstone massage (both $260 a couple for 75 minutes). You could also consider a side-by-side Bliss Reflexology Massage or, if you can't find a babysitter, ask a therapist to come to your home, such as Mobile Beauty Therapy.