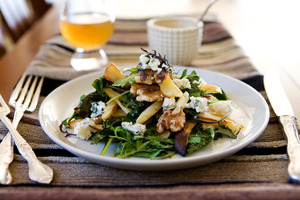 Warm roasted parsnip salad
Serves 4
Parsnips have a delicious nutty flavour which is more evident when roasted. There is no need to peel them - the skin lends a wonderful flavour to the salad.
2 medium parsnips, washed and sliced
Grapeseed or light olive oil
Salt and ground black pepper
50g walnuts
4 handfuls assorted salad greens
125g blue cheese
Dressing
1 tsp Dijon mustard
1 tsp whisky
2 Tbsp light olive oil
2 tsp sherry or honey vinegar
Salt
1. Preheat oven to 200C. Toss parsnips in enough oil to lightly coat, then season. Spread out on an oven tray and roast for 30 minutes, stirring occasionally, until golden.
2. After parsnips have been cooking for 25 minutes, add walnuts and cook for the remaining 5 minutes.
3. To make the dressing, whisk all ingredients together, adding a little salt to taste.
4. Heat a large frying pan and add 2 tablespoons of oil, then salad greens, and gently stir until just wilted.
5. To serve, arrange greens on plates with parsnips, sprinkle walnuts over, crumble blue cheese over, then drizzle on the dressing.