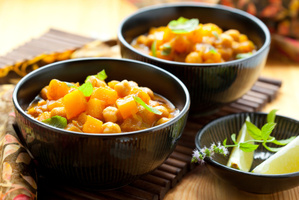 Eating curry could help stop infection by strengthening the immune system, new research has found.
A new study by US researchers has found curcumin - a compound in popular curry spice, turmeric - triggers an increase in protein, boosting the immune system.
The yellow spice is often found in South Asian and Middle Eastern meals and could help fight against bacteria, viruses or fungi that the body hasn't been exposed to, the Journal of Nutritional Biochemistry reported.

Professor Adrian Gombart of Oregon State University found curcumin caused levels of the protein, cathelicidin anti-microbial peptide, to almost triple.
"Curcumin is generally consumed in the diet at fairly low levels," Prof Gombart said.
"However, it's possible that sustained consumption over time may be healthy and help protect against infection, especially in the stomach and intestinal tract."
Curcumin, known for its anti-inflammatory and antioxidant properties is also being studied by British scientists for it's cancer fighting qualities, Medical Daily reported.
Follow Life & Style Editor Nicky Park on Twitter.
- HERALD ONLINE