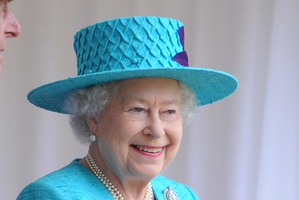 Amid winter glooms a few months ago, you would have needed a microscope to spot any public excitement about the 60th anniversary of the Queen's ascent to the throne.
Yet today, with a week to go, a transformation has overcome much of Britain - locals might call it Jubilee fever.
Countless people in towns and cities, communities large and small, will gather next weekend for celebrations that promise to be Britain's biggest for decades.
The High Street of Keynsham, near Bath, is closing on Sunday to make way for 400 barbecuers and picnickers. In the London suburb of Hatch End, they hope to get 6,000 people for their street party, with karaoke and a Bollywood dance troupe. Outside the town hall in Norfolk's Downing Market, giant screens will show the Queen's Thames procession.
The North Yorkshire village of Eggborough is staging a free children's tea party, while Aldeburgh in Suffolk will hold four days of celebrations including fireworks and a Spitfire fly-past.
In Northumberland, there is a big service in Hexham Abbey, lots of local village parties and a beacon lit high on the racecourse.
In my own area, west Berkshire, many villages are putting on picnics on the green or in the park of the local big house.
East Ilsley has coupled the Jubilee to its annual Sheep Fair fete. The bunting and Union flags are already up; at least 500 people are expected to attend its children's party, evening disco and hog roast. There will be a Great Ilsley Bake-Off, with lots of red, white and blue cupcakes.
What has suddenly got into everyone? How does it come about that the supposedly cross, cynical and dispirited country is rallying so eagerly to the Jubilee? Some say that next weekend will generate more real enthusiasm than the Olympics.
'I think that in this country, we really needed something to celebrate,' says 51-year-old Phil Schofield, a retired policeman who is organising East Ilsley's party.
'There aren't many feel-good stories around, are there? But now we have an occasion that only this country could be staging, that gives everyone a chance to show their feelings.
'This will be a weekend for Britain's silent majority, if you like. There is huge affection for the Queen - everyone is very proud of her.
'This will be a traditional village thing that brings the community together - a bit like the old days in the war.'
- Daily Mail