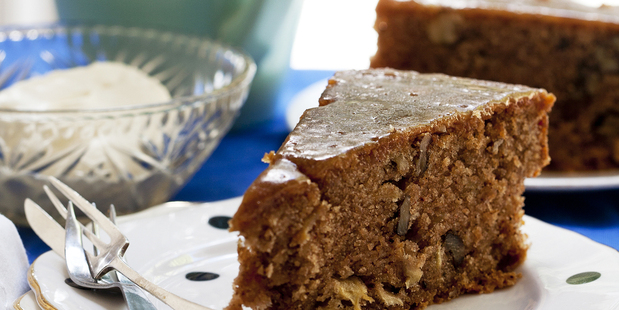 Serves 10-12
1 1/2 cups vegetable oil
2 cups caster sugar
4 eggs
2 cups plain flour
1/2 tsp ground cloves
1 1/4 tsp ground cinnamon
1/2 tsp mixed spice
1 1/2 tsp baking soda
1 tsp salt
1 cup ground almonds
1 1/4 cup walnuts - chopped
3 1/2 cups apples - peeled, cored and diced
3 Tbs calvados or brandy
Glaze
2 Tbs white sugar
1 Tbs brown sugar
1 Tbs butter
1/4 cup fresh orange juice
2 Tbs calvados or brandy
Cream, creme fraiche or yoghurt
1 Preheat the oven to 160C. Line a 24cm spring form tin.
2 Beat the oil and sugar until thick. Add the eggs one at a time, beating well after each addition.
3 Sift all the dry ingredients together then fold through the first mixture with the almonds.
4 Combine the walnuts, apples and calvados then fold into the mixture. Spoon into the tin and bake for 1 1/2 hours, testing after 1 1/4 hours with a skewer.
5 To make the glaze; put all the ingredients into a saucepan and bring to a boil while stirring. Boil for 10 minutes or until the syrup is reduced and thickened. Pour over the cooled cake and serve with cream, creme fraiche or yoghurt.
* Check out Viva's Facebook page, the place to find out what's hot in fashion, beauty, food, wine and design.