Make the most of autumn's fruity offerings.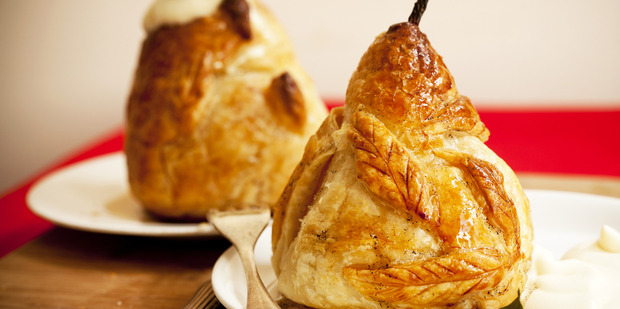 Beurre bosc, doyenne du comice - such elegant names for an elegant fruit. As pear varieties go, packham has perhaps a more prosaic name, and as for nashi - well, I have never really considered it a pear. In fact I used to think it was an apple-pear cross, but now know it is its own species. I actually prefer nashi chilled - they are deliciously crisp and juicy at the same time. This week I've used them in a salad to add a cleansing freshness to the rich but oh-so-tasty pork belly.
Though we are now used to seeing pears on the shelves all year round, the colder months are when they are at their best. April through to August is when we should be feasting on these beauties.
Pears are a beautiful fruit to look at which is why they are often poached or baked in pastry so their shape is retained to be admired when brought to the table.
Poached pears is a simple dessert and they can be cooked in a variety of liquids but here the red wine gives a gorgeous colour and flavour. Prepare this dessert the day before; as the pears cool in the liquid the colour becomes richer. They can then be gently warmed before serving. Some of the liquid can also be reduced to a syrup to drizzle over before serving.
I used beurre bosc for its curvaceous shape and tapered neck. It looks beautiful but is also firm enough to withstand longer cooking without falling apart.
Wrapping whole pears in pastry is a simple but impressive dinner party dessert. Warm puff pastry encases the juicy pear which is then bathed in a fragrant vanilla syrup perfumed with bay leaves - delicious, especially with a dollop of softly whipped cream on the side. Packham pears are good in this recipe because they have juicy flesh and were perfectly ripe at my local vege store.
Chef's tip
Peel pears before wrapping in pastry, otherwise the pastry will slide off during cooking. If you need extra time while preparing recipes you can always put the peeled pears in acidulated water to stop the fruit turning brown. Just add a squeeze of lemon juice to water.
* Check out Viva's brand new Facebook page, the place to find out what's hot in fashion, beauty, food, wine and design.