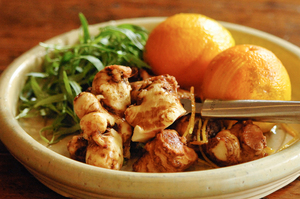 These rather ugly, underground tubers are part of the sunflower family. Their tall stalks bloom with a comparatively miniature yellow flower. You need to give them a good scrub before using , then roast or steam them. They tend to fall apart if boiled. I think their best use is in soups, alone or combined with other root vegetables. Orange and French tarragon combine well with them.
Cook off some fine diced onion in some butter and oil to soften, add the chopped up artichokes, orange juice and zest and a good amount of tarragon. Sweat for a bit, cover with a good vegetable or chicken stock and simmer till tender. Puree the soup and pass it through a sieve to strain out the artichoke peel and tarragon stalks.
Thin with more stock or cream to the consistency you prefer.