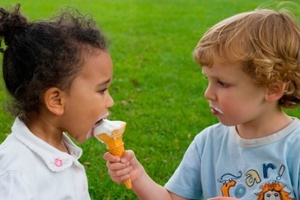 Kindness might be something you're born with, new research has found.
Psychology researchers at the University of California and University at Buffalo (UB) have revealed that people's kindness and generosity is at least partly due to genetic makeup, reported Science Daily.
Assistant professor of psychology at UB Michel Poulin is the principal author of the study The Neurogenics of Niceness, published in Psychological Science this month.
His work suggests that parental DNA makes significant contributions to their child's moods.
The study examined the behaviour of participants who have versions of genes for two hormones, oxytocin and vasopressin, traditionally associated with niceness. Earlier studies have proven links between the hormones and the way people treat each other, Prof Poulin says.
Both hormones are known to make us nicer people, especially within close relationships. Oxytocin, often labelled the "love drug", promotes maternal behaviour and greater sociability, Prof Poulin says.
The study, an extension on previous findings, wanted to establish if the hormones incite other heightened social behaviours, like giving to charity and giving blood. Researchers surveyed 711 people on their attitudes towards civic duty and collected saliva samples for DNA analysis to see what form of oxytocin and vasopressin they had.
"These genes combined with people's perceptions of the world as a more or less threatening place to predict generosity," Prof Poulin says.
"So if one of your neighbours seems really generous, caring, civic-minded kind of person, while another seems more selfish, tight-fisted and not as interested in pitching in, their DNA may help explain why one of them is nicer than the other."
Prof Poulin doesn't go as far as to say he has found the "niceness gene", but one that "makes a contribution" to feelings people have about the world around them.
- HERALD ONLINE