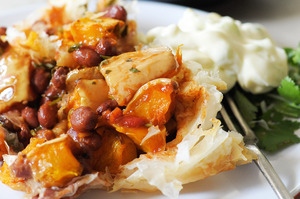 Filo pastry is a lovely flaky product with which to layer, wrap and cover many ingredients. The individual sheets need to be generously brushed with melted butter or oil and layered to make it usable. For heavier fillings you need at least 3 layered leaves of filo.
1 Dice a whole butternut pumpkin into 1.5cm cubes. Leave the skin on. Season well and roast in some oil until tender. Drain on a paper towel.
2 Mix with 1 can of chilli beans, half a cup of chopped fresh coriander and a little finely grated fresh ginger. Leave to cool.
3 Layer your filo and cut a 20cm square for each pie.
4 Place a spoon of the filling in the centre of the square and brush around this with oil or melted butter.
5 Take opposite corners of the pastry and bring together over the filling, squeezing the tips to hold.
6 Take the two remaining opposite corners and bring these up to meet the first two, squeeze the four tips together.
7 Gently press down the four sides to form a parcel that should end with a squarish base and four sloping triangular sides. Don't be too fussed but make sure all your edges are sealed together and the filling is well encased.
8 Bake in a medium oven (fan bake if you have it) until the pastry is crispy and golden.
9 Mix some finely sliced spring onion and a squeeze of lemon or lime into some light sour cream and serve this with the filos.