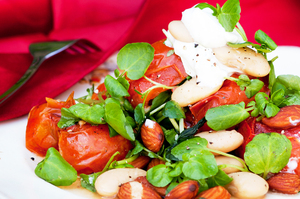 Serves 4
8 tomatoes
1 Tbs olive oil
2 tsp salt
Black pepper
1 tsp brown sugar
2 cloves garlic
2 sprigs rosemary
1 1/2 cups butter beans
4 handfuls of watercress - either hydroponic or, preferably, sourced from a river and available from food markets
100g roasted and salted almonds
1 cup creme fraiche
2 tsp lemon juice
1 Tbs fresh herbs, finely chopped - parsley, oregano, marjoram
1 Preheat the oven to 220C. Arrange the tomatoes in a dish.
2 Drizzle over the oil, sprinkle the salt, pepper and brown sugar.
3 Finely slice the garlic and add with the rosemary.
4 Bake for 20 minutes then let cool.
5 Combine the butter beans with the watercress. Arrange on a platter or individual dishes then add the tomatoes and the almonds.
6 Mix together the creme fraiche, lemon juice and herbs. Spoon over the salad before serving.