It's good to be prepared. When the sun does start shining there are rooftop bars and garden pubs to make the most of the blue sky and clear evenings.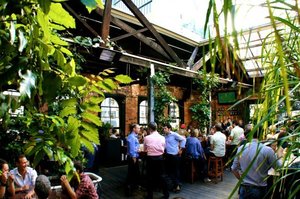 One of the best things about them is feeling you've discovered a secret spot and the worst is that you're probably walking past one without noticing it. They're popular for parties, so it's a good idea to check if they are open to the public before you leave home.
ROOFTOP BARS
La Zeppa Kitchen and Bar
33 Drake St, Freeman's Bay. Open Tues-Thurs from 4pm, Fri-Sun from 3pm, ph 09 379 8167.
Above the newly renovated Victoria Park Markets is a large outdoor deck strung with sweet, colourful lanterns and fairy lights. With a view of the Sky Tower on one side and the market's historic 38-metre high chimney on the other, it's a dramatic setting. La Zeppa's deck is full of wooden furniture, outdoor heaters in case it gets chilly and a bit of greenery. On Sundays throughout March you can listen to acoustic sessions at 3pm while enjoying tapas-style tasting plates, set menus, platters or bar food.
There's also an "allergy menu" with vegetarian, gluten and dairy-free options.
* Read the restaurant review here.
Fort Street Union
Level One, 16 Fort St, Auckland CBD. Open Sun 5pm-late, Mon-Fri 11.30am-late, Sat 4pm-late, ph 09 309 0315.
If you haven't been to this side of town for a while, it's time for a visit. There are lots of new spots waiting to be discovered, like the rooftop garden bar at Fort Street Union. Enter through a small doorway, climb a steep staircase, pass a few bathtubs filled with plants, and you'll be able to sit in a 100-year-old heritage building with exposed brick and wooden beams under an open roof. The open kitchen serves snacks, platters and main meals. Its signature dish is a whole rotisserie chicken. There are DJs and/or live music from Wednesdays to Saturdays, as well as a new craft beer each month.
Brew on Quay
102 Quay St, Auckland CBD. The rooftop bar is open Thurs, Fri and Sat nights, ph 09 302 2085.
A small rooftop bar is on the second floor of Brew on Quay. It's often booked out for birthdays, quiz nights and corporate functions and is ideally located close to office workers wanting pub grub, tapas, platters, light meals and a few drinks on the way home from work or before a show at the Vector Arena, 600m away. There's a huge selection of New Zealand and international craft beers from Mash Up and Moa Breakfast Beer to Orval, a trappist ale funding a monastery back in Belgium.
* Read the bar review here.
Tyler Street Garage
120 Quay St, Auckland CBD. Open 7 days, 11.30am-late, ph or telephone 09 300 5279.
The Tyler Street Garage used to be a parking garage and still retains its gritty feel with a colour scheme of mostly black. Upstairs is a small rooftop bar with views of the docks and the harbour. There are DJs and a fully stocked bar upstairs, with $12 cocktails on Sunday. The roof retracts and there are outside heaters. The menu is filled with platters, tapas, pizzas and hot dogs. Just be aware the rooftop bar allows smoking.
* Read the restaurant review here.
Breeze Bar
5 O'Connell St, Auckland CBD, ph 09 369 5639.
Another hard-to-find entranceway is that of the Breeze Bar on the rooftop of the Honey Champagne Bar, just next to Hotel DeBrett's Kitchen. Climb the marble staircase and you can sip a Cosmo under a palm tree and watch the clouds drift by or the stars shining. With around 60 cocktails on the menu, just make sure you take your time walking back down past the nightclub on the second floor and the cocktail lounge on the first.
Roxy and Everybody's Bar and Bistro
Both on Level One, 7 Fort Lane/44 Queen St, Auckland CBD. The Roxy is open Tues-Sat for dinner and Fri for lunch, ph 09 929 2701. Everybody's is open Mon-Sat 11.30am to late, lunch 12-2.30pm, dinner 5.30-10.30pm, ph 09 929 2702.
Just around the corner in Fort Lane is a grand old theatre complex called Roxy and Everybody's, now turned into a bar, bistro and restaurant as part of the impressive Imperial Lane development. It's quite hard to find: I entered from Fort Lane and tried my luck up a spiral staircase through the Imperial Lane cafe. You can also enter through an entrance next to Louis Vuitton on Queen St. Looking around the glamorous surroundings, it's hard to imagine the building had been scarred by fire and neglect, left untouched for 50 years. There are two rooftop areas to choose from. At Everybody's, the bar and bistro dining option, the courtyard is full of exposed brickwork and touches such as a side-of-building staircase. The terrace at fine dining restaurant Roxy has views of Auckland's cityscape and an elegant urban warehouse feel.
* Roxy restaurant review here. Everybody's restaurant review here.
GARDEN PUBS
For moments you wish to escape the splendour of a high life, there are many garden pubs around Auckland. Traditional favourites include:
Leigh Sawmill Cafe
142 Pakiri Rd, Leigh. Open Fri-Sun 10am-late, Thurs 5-9pm, ph 09 422 6019.
Worth the drive north, Leigh Sawmill Cafe has a micro-brewery specialising in natural, hand-crafted, premium beers. It's famous for live music, gourmet wood-fired pizzas and fresh fish. There's a brick boat, a sandpit and children's play area, and a relaxed atmosphere. Sit on a picnic rug on the grass or at a table. You can also stay overnight at the Sawmill Cottage, which has two sleepouts for up to four people each.
Puhoi Pub & Hotel
Cnr Saleyards and Puhoi Rd, off SH1. Open Sun 10am-7pm, Mon-Tues 10am-7pm, Wed-Thur 10am-8.30pm, Fri 10am-10pm, Sat 10am-late, ph 09 422 0812.
Settled by Bohemians in 1863, Puhoi is a short drive north of Auckland and the pub, established in 1879, is always a favourite for daytrippers. It's also popular with bikers, and even has a separate parking area for motorcycles. It's down-to-earth, don't expect airs and graces here, but do expect friendly service and good honest pub food. In January, you'll see the annual Puhoi Axeman Woodchopping Carnival on the front lawn. The garden area is huge, plenty of room for all.
The Northcote Tavern
37 Queen St, Northcote Pt. Open Sun 11am-10pm. Mon-Wed 11am-10pm, Thurs 11am-11pm, Fri and Sat 11am to midnight, Jonny's Kitchen is open 11am-9pm daily, ph 09 480 7707.
Inside the Northcote Tavern's Highlander Bar, a knitted Piper McTavish sits on a piano as highland cattle peer down from photo frames above maps of Scotland. On the day we visit, Fame is playing on the stereo and a darts championship is on the big screen. Step outside and you're in a garden surrounded by a white picket fence. It's delightfully Scottish - even the carpet inside the bar is tartan - but interestingly, the first hotel on the site was built in the late 1850s by an Irishman. Back then the views from the garden bar would have been impressive. Today, the view is mostly residential buildings and the crowd is always merry and family-friendly.
* Read the bar review here.
MODERN GARDEN PUBS
Although they might not look like traditional garden pubs, plenty of bars around Auckland bring the outdoors in to create a garden feel. Try:
* The Elephant Wrestler, Takapuna: with a living wall of plants, hanging baskets and a large magnolia tree, it's a bit like a secret garden. The courtyard has a retractable roof for sunny days and clear-sky nights.
Read the bar review here.
* Hurstmere Rd Brew Bar, Takapuna: has an outdoor courtyard with trees in planter boxes, as well as an inside area featuring high-backed wicker chairs and hanging baskets.